We have enjoyed a marvelous day of temperatures in the low 80's. Mr C and I both have had a surge of energy and have accomplished some tasks that were on the back burner. Tomorrow we are taking M & M to the Oregon zoo. Expect photos!! I also want to report that during the latest heat wave, I have kept up my 10,000 + steps a day. I walked early in the morning and late in the evening. My weight loss started to plateau so I have tried to increase the number of steps to 12,000 a day.
I want to thank all of you who left comments after my rant yesterday. It is very gratifying and inspiring to know their are kindred spirits out there. Terry Grant left a link to a speech given by Bill Moyers on accepting Harvard's Medical School Global Environmental Citizen award. In it he talks about how millions of Christian fundamentalists believe that environmental destruction is not only to be disregarded but actually welcomed – even hastened – as a sign of the coming apocalypse. You can read the full speech here.
If you haven't checked in on Lisa's blog, you can see a photo of her with all of her medals. It is awesome. She and I are participating in a secret collaborative project, and since she posted hers here, I thought I might as well post mine. I think I may be the only fiber artist. It is titled Odd Bird Out. The birds are fused cotton and are embellished with some fibers and the eyes are beaded.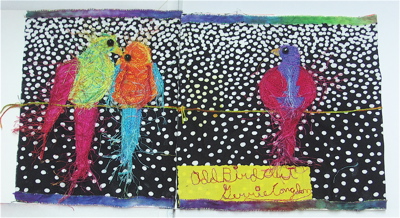 I received confirmation that the clients LOVE Tropical Trio, the fish quilt. I have also been in contact with the Wesley Foundation contact and they have not hung the commission yet. The new hanger arrived, but she seems rather clueless about how to proceed. I said to get a couple of strong men with a cordless screwdriver and a level and just do it! So hopefully I will soon see it hanging in it's new home.