I have been busy with family stuff. Mark and Jayme were in and out. They flew in Thursday night and left on Friday for Seattle where Jayme was a bridesmaid. They came back yesterday and we had a family dinner with Steph, Jack and M & M.
We spent this morning eating and playing with the kids.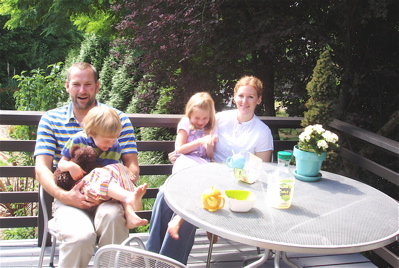 After lunch, we headed to the Japanese Garden where I was working at the High Fiber Diet Annual show and sale. This is the group here in Portland that is affiliated with the Columbia Stitchery Guild. Every July, they have an Asian/nature themed show in the Pavilion at the garden. I could not take part this year because I had not been a member long enough. Yesterday, Steve and I went to the artist's reception and it was really crowded! Quite a bit of work had been sold since the show opened on Tuesday.
Terry Grant and I worked the show today and again, I was impressed with how many people came through. We sold $875 worth of merchandise this afternoon. Photography of individual work is not allowed, but I took some long shots to give you an idea of the size of the show and the beauty of the room: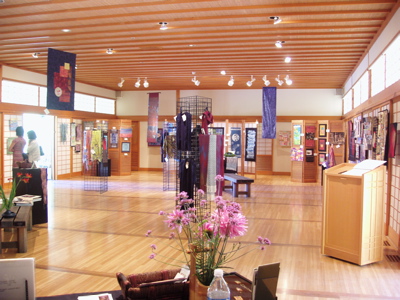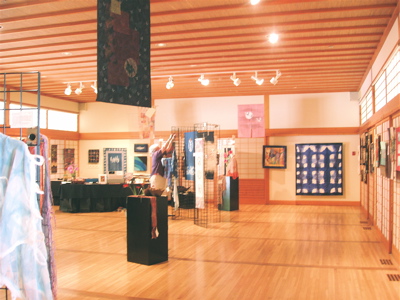 You can see Terry in this shot, hanging a new piece to replace one that was sold. Whrn the work is sold, it leaves and there is additional work stored away to be brought out. I was impressed with the variety and quality of work at the show.
Mark, who is a landscape designer, took lots of photos of the garden with my camera. Here are some thumbnails. You can click on them to see a larger version. It is a beautiful, zen experience to walk around this garden.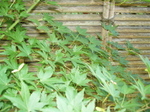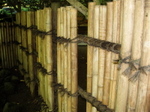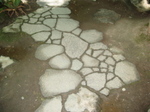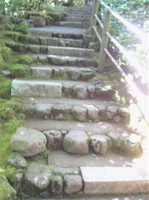 A big Hurrah! for Lisa who is at the Gay Games in Chicago where it was 112?Ǭ? today. She is a master's swimmer, and she has won 2 gold medals and one silver so far. At the last meet, two years ago, she was the most medaled woman at the meet. The downside is the ignorant protesters who stand outside the facility with ugly signs like these here and here. I wish these people would get a real life and mind their own business! Tuesday morning update: Just talked to Lisa – she won another Gold medal late yesterday so she has 3 golds and a silver!!!