Today was a good day. I was up and out of the house before 10 am. Steph, M & M and I went to June Underwood's front porch to look at her free fabric. She also had some for sale. Stephanie found some wool in wonderful colors for the softies that she makes. June had lots of treasures for Mia in addition to the fancy fabric that she found. Even Milo found fabric with space ships, sports and fireworks. He also found a pattern for teddy bear clothes which he put in his bag for his mom. I went for the stuff with a price tag. Here is what I brought home: some hand dyed/painted fabric, some batik pieces and some painted silk organza: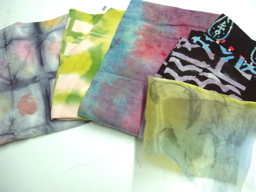 I grabbed this little pieced gem to turn in to a post card for Fiberart for a Cause.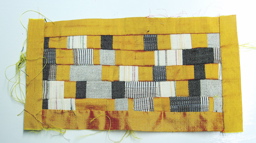 And I also took this children's quilt top to finish for my Santa Rosa Guild's Community Quilt program. It is an Old MacDonald had a farm theme quilt.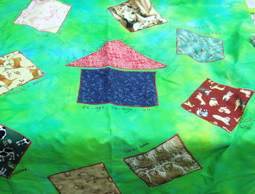 You can see more of June's sale on Terry Grant's blog.
Lisa called tonight and she has won 3 individual golds, 1 silver and 3 golds in relays. Wheee!! That's my girl. I want to thank everyone for their support of Lisa and their abhorrence of the protesters. My good friend Liz Berg made a very heartfelt post about this kind of hate on her blog today. You can read it here.
She sent me a private e-mail in which she kicked my butt a little for not getting back in to the studio. So this afternoon after puttsing around and playing solitaire on the computer, I got up and went in and got to work. I had to get rid of the leftover silks covering the cutting table so that I could cut some fabric. Then I made this: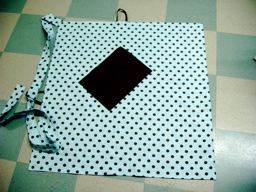 What is it, you ask? Well, last month, the Columbia Stitcher's had a wearable art teacher here as the guest speaker. This is one of the pieces she showed us and gave us a diagram for (not written instructions!).
Now, imagine that I am 6 feet tall and much thinner and this will look better. Now, quit your snickering, I am doing the best I can with the what I have to work with.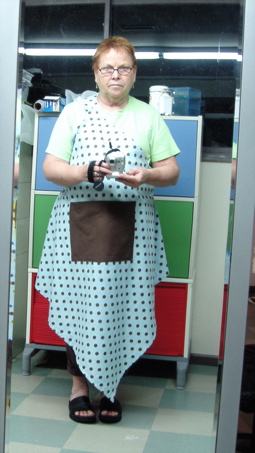 This is for my tall, apron loving daughter, Stephanie. It apparently is a design of Issae Myaki and he borrowed it from some Japanese women on some little island. Anyway, this asymmetrical apron is easy to make and quite attractive. I will have to adjust the measurements for myself! I know this wasn't art, but it got me back behind the sewing machine.
Just for fun, here is Maggie wearing a pirate hat that Milo and Mr C made for her: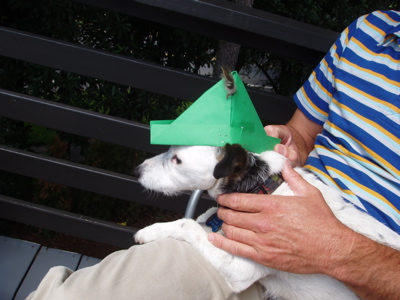 Now, I m going to watch Project Runway!