I don't know about you, but I will be so happy to have Wednesday, November 5th arrive. I hope to get my life back. I have been on this political adventure for two years. I go from ecstasy to fear, depending on the latest poll that I have read. I have never been so invested in a campaign. For the sake of our country, I hope that our long nightmare is soon to be over. Today, I was looking at a slide show of the Obama family. It made me so happy to see these smiling, loving people who are poised to become our first family. Here is a link.
Mr C just left to take Steph to the airport for her flight to Portland, ME, where she will spend the week with Maria and have a book party and gallery reception out there. She is taking a red-eye. Jack leaves on Wednesday, and I am gearing up to host M & M for the rest of the week — packing lunches, driving to and from school and meeting all the other important needs of two rambunctious kids.
I have been plugging away on the sunrise quilt. I finished quilting it, but I am not really happy with the sky. The fabrics are all silk, under tulle, and I encountered some slippage, but I think I can do some corrective work on it. It is just that I have reached the stage where I want to move on. Maybe I should just let it rest for a while.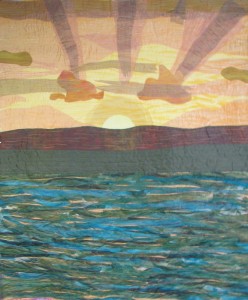 Tomorrow morning, I have Columbia Stitchery Guild board meeting. Then I have to do homework for my class. So there goes Monday. Then, we have Tuesday to get through. I'll make it.