This is my worst allergy time. I think it is from the mold that develops from the combination of falling leaves and falling rain. Today they were scooping them into piles and picking them up in big trucks to haul them out of our neighborhood. I think I should have stayed indoors because I am sure the mold was permeating the air. Anyway, I have a bad sinus headache.
Here is my other headache. I finished the quilting on the hillside houses. I was not thrilled with the color of thread I used for the sky. I wanted to use all heavy weight cotton and none of my shiny synthetics. Well, it looks like I will have to pull it all out anyway. Don't you love unquilting? Here it is finished (I thought).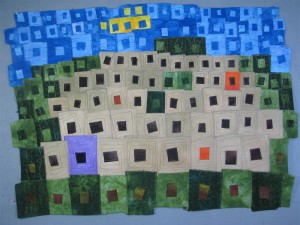 Now look at the back. This is a piece of Marimekko fabric I bought at Crate and Barrel: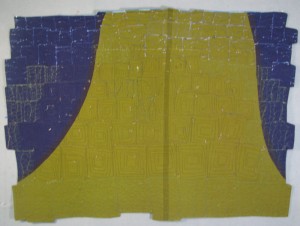 See all those snarls at the top? Here is a close-up: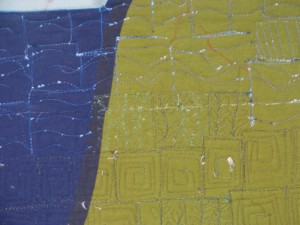 I didn't notice this until I was all done. The problem is that wherever the snarls are, the quilting comes unstitched. I don't know why this happened just in this section. You can see the line where I cut the back to make the pillow case turn. The sleeve will cover that. So I think I will head out tomorrow to find a better thread since I have to requilt it.
I think I am feeling out of sorts because I have been spending too much time by myself. I always get this way  just before it is time for STASH! I have this self-imposed work schedule to get enough pieces done for my solo show. I have been reading blogs of all my friends who are travelling, going to art gallery receptions, attending quilt shows, taking and teaching workshops, and I am feeling left behind. I know, I know — usually I am having great experiences. Thursday is STASH and Friday is Crit group at my house. That should feed my need for some social time.
I just have to post this link for all my knitting friends. You probably have seen it, but I think it is quite hysterical — knitting graffitti.