If the early part of the week found me lonely, the last two days have been a great antidote. Yesterday, was miserably chilly and rainy. The STASH group met at Reva's where it was toasty and the chatter was endless. Here is my sofa buddy, Stella Luna or possibly her sister, China Rose, playing the part of a stuffed antimicaster.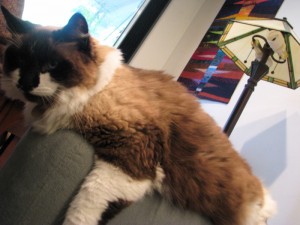 Reva treated us to all sorts of home cooked goodies. We had home baked cookies when we arrived. For lunch we had two soups, great cheese and bread and apple cake with ice cream.
Last night we celebrated Miles' seventh birthday at one of those sushi restaurants where the sushi travles around on a conveyor belt and you grab plates as they go by. M & M loved it. It was fun because they enjoyed it so much. Then we went back to Steph's for the opening of presents and a Ben and Jerry ice cream cake.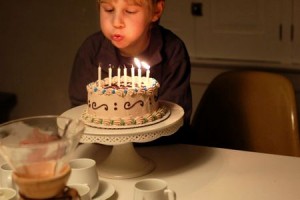 Today was crit group at my house. Two of our group didn't make it, but the other four of us had a good time. I showed by sunrise piece and received some great feedback. We went out for Thai food.
I took a nice long walk since the sun decided to make an appearance today. Then I had to do some SDA website stuff. I finally got into the studio at 4 pm. I did a my usual cleanup and putting away of stuff to start a new piece tomorrow. I am going to make an abstract piece based on the colors of the dead sea which contains many minerals, particularly salt. Much of the fabric that I dyed is for this piece. I am playing around with some cheesecloth for the salty deposits.