I am going to do a rare Saturday post. I have veggies roasting in the oven. Mr C is going to grill some turkey breast loins. M & M are arriving soon to have dinner with us and spend the night. Steph was worried that she was wearing out her babysitting time. I told her there is no limit, as long as I do not have plans. I always love to have them come by for some quality time with us.
I scored a great 12 X 12 quilt from the SAQA auction today. This is by Cathy Kleeman. I love her work. She got into Quilt National this year. I have a piece that will be in the third week of the auction. Here is the piece that I am adding to my collection: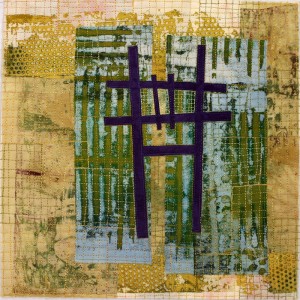 I started quilting the hillside houses today. First, I fused it to the batting: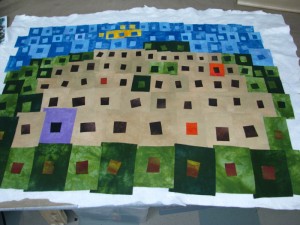 Then I sewed the back to this, right side facings and prepared it for the pillowcase turn. I add a length of wonder under to the wrong side of the backing along the top edge where the rod pocket will go. I cut a slit through the center of the paper and start turning.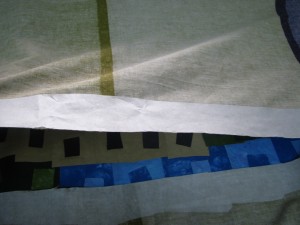 Here it is turned and ready for quilting. Whoops, I just got a comment from Terry. She thinks I should have done a solid sky. Too late now! I considered it, but I really liked using the square in a square.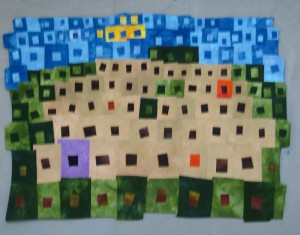 To complement this wonky quilt, I am doing wonky quilting.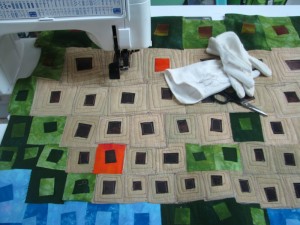 I hope to finish this tomorrow and move on to another piece that is running around in my brain.