First, I just want to say how ver klempt I am over all the great comments I received here and over at 12 X 12 about my chair piece. It was a piece waiting to be made since I took the photos. I have selected the next theme and it is window. You can read about it at 12 X 12.
I have spent all of today working on SDA conference stuff. I am caught up for the time being. Tomorrow, I will be back in the studio — cleaning up my mess.
Mr C painted my old bookshelves to match the other woodwork in the office. They look so great.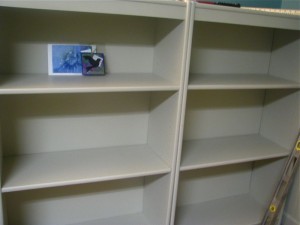 What is that on the shelf? It is a nice little gifty from Deborah — a been thinking about you gift with a lovely note. I love snail mail. Thanks, Deborah!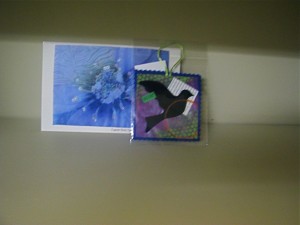 We found these really cool shelf brackets at IKEA. Mr C is making shelves. I think they have the first coat of paint. At least, I have the makings for getting organized.
Last, but not least. I love my new grocery shopping bags that I found at IKEA. Brightens up an otherwise tedious task.