Where was I when Mr C dragged me off to Golden Gate Park. We were driving from Sonoma County, our recent home until 3 years ago, to San Francisco.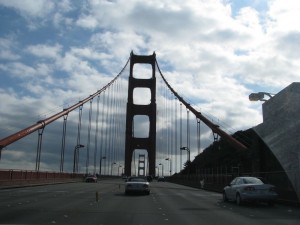 Church cross/sign in San Francisco.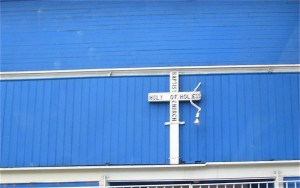 Driving through the Castro to get to Lisa's home, in the Mission.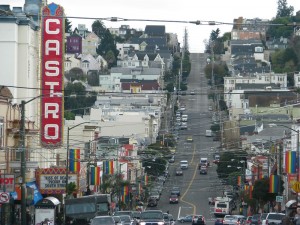 Look at who was happy to see me. Please ignore the double chin.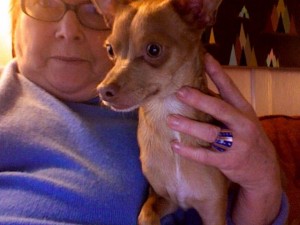 We went to Lisa's show which was inspired by Victorian Valentines. She is just so creative and full of ideas. Many of her friends were surprised to see us there. She runs with a very talented crowd. Amy Ruppel drove down from Portland, too. She followed us all day and we had a big laugh about it and commiserated over the horrible drive on 101.
The show was at the Bell Jar. It is a very electric store, and I enjoyed looking at all the goodies and collectibles. This guy looked out over the event. Isn't he cute?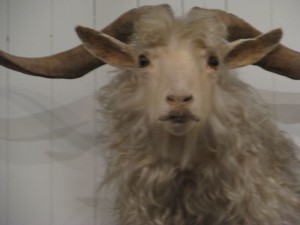 Here is a photo that I snapped of Lisa and Clay, her girlfriend – such a cute couple. I never did get a very good photo of Mark and Jayme.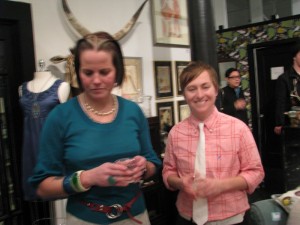 After the show, Mark, Jayme, Mr C and I went to Delfina pizzeria and after a short wait enjoyed some fabulous pie!!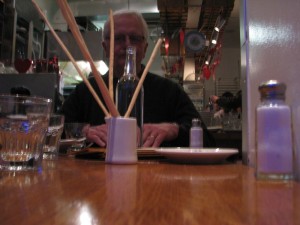 Here is a piece of pruciotto pie – so good. That is fresh arugula on it.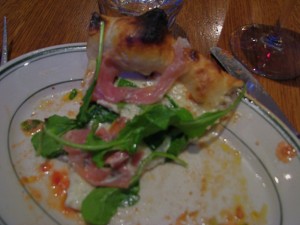 We had a change of plans today and spent most of the day at the new Academy of Science building in Golden Gate Park. It was very crowded, but still very enjoyable. I got some teriffic photos of tropical fish, jellies, butterflies and colorful frogs which I will try to post in the future.
Tonight we had a fabulous family dinner at Foreign Cinema, a really cool restaurant in the Mission, near Lisa's home. They show foreign films on the wall in the outside seating area. Tomorrow, we will leave early for SoCal, trying to bear the bad weather that is heading this way.