Five years ago I started blogging. This is what I said:
This is my first blog so please be kind. I enjoy reading the blogs of family, friends and perfect strangers so I thought I would jump into the fray. As my Blog title says, I am crazy for fiber. I make fiber art and I've been knitting forever. I hope to share my works in progress – both blunders and successes. Once I figure this out, I'll add some photos. I like blogs with photos and few words.
I have done a pretty good job of sticking with my plan! I must admit that as the blogosphere grows, there are days when I think I will quit and find something else, but I am still here.
To celebrate, I want to give away a couple of gifts to my faithful readers. So, if you leave a comment on this post, I will add your name to a drawing to receive one of my Valentine collages: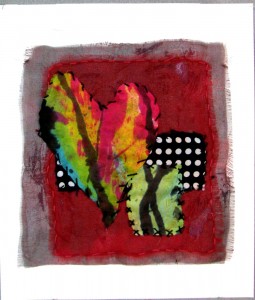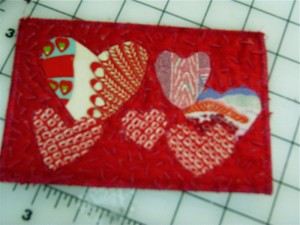 I will wait until Monday to do the drawing.
Today was crit day. I took my camera and actually remembered to take some photos. June is spending more and more time painting. She brought this abstract with colors that just made me happy.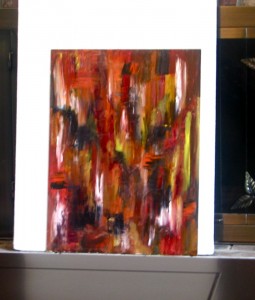 We wondered how it would look with a different orientation. I liked this one.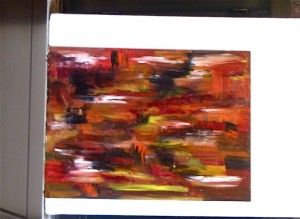 Mary brought a piece that she made after a trip to Paris. This is a map of Paris with buttons designating the places she visited. That is the Seine running through the piece. The fabrics were purchased in Paris.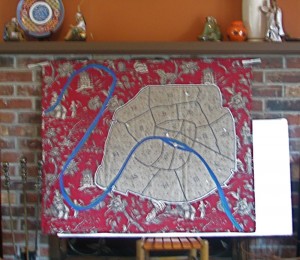 Here are June and Mary getting a closeup look at Terry's latest piece: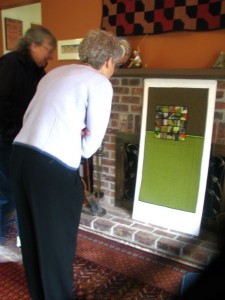 Oh, do I love that green.
Terry's home is so lovely and reflective of her art and design skills. I love poking around and looking at the art and objets d'art. Here are a couple of compositions I found on her coffee table. Those are coasters from Equidor.