. . . to Tell a Story is the name of the workshop with Alice Kettle. What a fabulous morning I had. My first reaction was sheer panic because she had given us a pile of papers and journals and told us to get out our drawing materials. She had placed still lifes in the center of all the tables and told us to draw, paying attention to the weight and thickness of lines.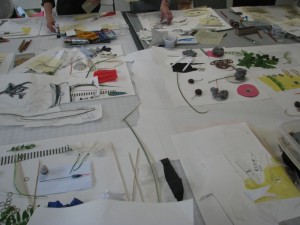 We then cut tracing paper into 4 pieces and drew individual design elements that we saw in the still life. Next, to my relief, we cut our larger drawings into post card size pieces. Using those as a base, we cut and collaged our drawings on tissue paper to make little compositions.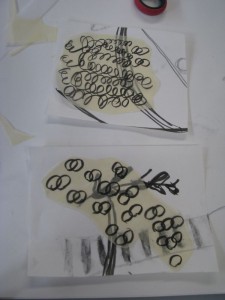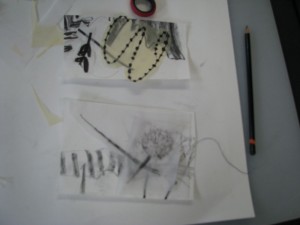 Here is work from the class on the wall. I didn't get a photo of mine.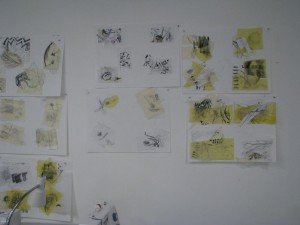 Our next task was to make collages using fancy papers and something called sugar paper on which we had drawn lines. We also drew lines of different weights on tracing paper, cut it in fourths and then did things like crumpling, folding, pleating. All of these things were used to make more colorful collages. Here is my assemblage.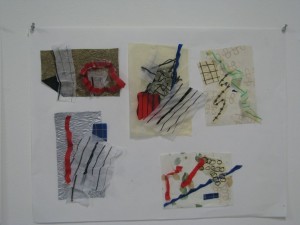 The next project was to pin various papers, old photos, maps, etc to a length of vilene (British stitch and tear). We then stitched the pieces to the vilene, so that everything was fastened down.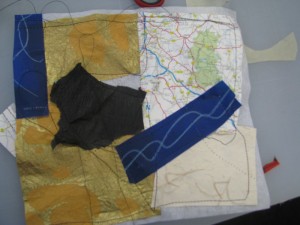 This was then cut into many little pieces.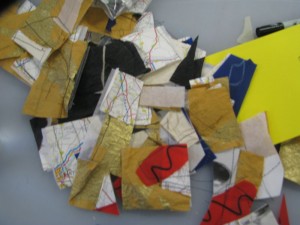 We glued these little compositions into a small journal that was provided.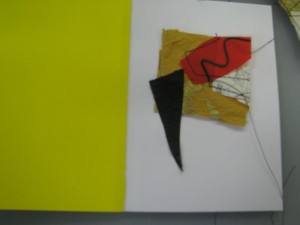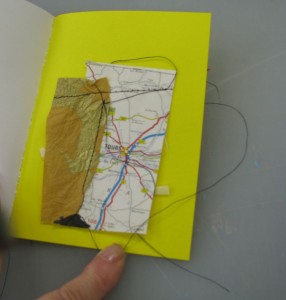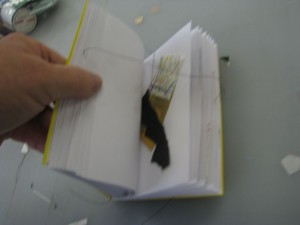 This was so much fun.
Then it was time for lunch. At lunch, I found out that a very special person in my life had passed. I lived with Marjorie and her family when I was in high school and took care of the children and cooked meals while she taught piano lessons. She had an incredible impact on my life and I would not have gone to college had it not been for her influence.
This greatly influenced my afternoon as I was a little weepy, knowing that it would not be possible for me to leave here to go to her funeral. I did talk to her oldest son tonight and he has asked me to write something to be read at her funeral and this makes me feel that I will be there in a way.
This afternoon we started drawing lines with the sewing machine. I didn't take any photos, too distracted. We were to pay attention to the lines we had drawn with pen and charcoal as we stitched on fabric. We will be making more compositions which will go into a larger journal.
All things considered, it was a good day.