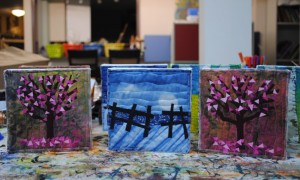 Here are the last 3 six-inch square landscapes. One more indigo landscape and two Portland Pink Seasons.  And here are the ten of them ready to go.
I also finished eight of the batik Pearls of Wisdom pieces. I didn't know what to do for a hanging detail for these. But, last night as I was falling asleep, I thought -ribbon! I knew that I had hand-dyed ribbon that would be perfect. As I stitched the backing to each piece, I placed ribbon at the top and stitched it in.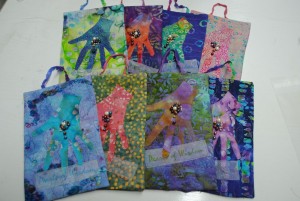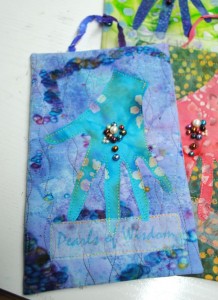 Now, every piece has to have a special price label with my special identification number. Mr C will help me cut and attach hanging slats for the big quilts. I need to get this finished and get ready for a guild board meeting here at my house on Monday morning. Then I will deliver my stuff and collapse!!