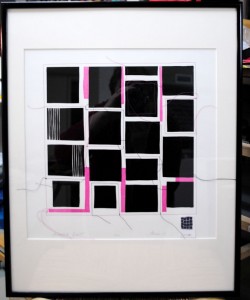 This is a wood block print by Diana Flack that I bought at the show this past week-end. It is titled, Annie's Quilt, and is an homage to a Gee's Bend Quilt. She put a little replica of the original quilt in the corner. Be sure to click the images to see them larger.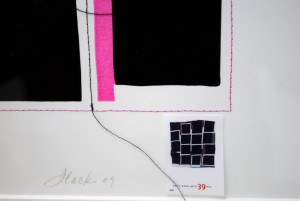 You can see the original here.
Yesterday morning, I helped to take down the show and get art work organized for the artists to pick up. I got an attack of vertigo and a horrendous sinus headache and had to come home. I have not accomplished much for two days. Lisa and Clay are coming tomorrow. I need to clean up the house and get some vegan food in the fridge. So, I hope I feel better tomorrow.
Mr C has been painting away down in my studio. We have changed the woodwork from a bronzy brown to this off white. I like it so much better. It makes the whole studio seem lighter and airier.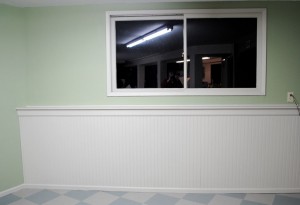 I started quilting the aspen background fabric and ran into problems. I didn't get very far and I ripped it out. I think I might have to go on a thread buying trip!