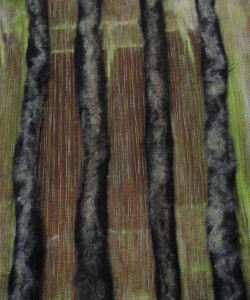 I have started the quilting on the Old Growth Forest piece.  The trees are not attached. I will stitch those down after I have finished the quilting. I am using a variegated thread that has all of the colors of the shibori fabric and does a wonderful job of creating a mystical forest  background.
I am leaving in the morning to go on a two day retreat in Central Oregon with my STASH group. It will rain, but we will have a great time, anyway!! I stitched up a couple of sleeves and finished machine stitching the facing for the aspen quilt. This will give me lots of hand sewing to do.  We will be near Sisters, OR, a great quilting town so that should provide some entertainment.
Look at who is hanging out in our front yard and driving Scooter nuts.
It seems to be the season of pairing off by the ducks from the Rhodie Garden. I have seen pairs here and there when I take my walks.
We have wifi at the house we have rented so I hope to be able to check in with a report on our frivolity.