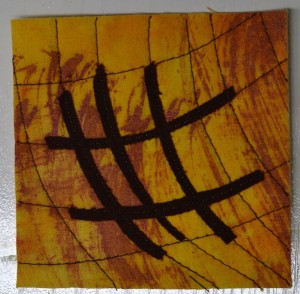 My mother-in-law used to take the leftovers from the big Sunday dinner and turn them into a stew or a casserole, and she called it Monday mixture. For me, today has been a mix of activities.
I did some catch-up on the computer, walked in the wind and rain and worked in the studio. The first thing I did was to make this cute little birthday  postcard for the soon to be 90 mother of my niece's partner. They are having a card shower and asking people to send cards to her for her birthday on Monday. Many of you know that my favorite greeting is Hippo birdy two ewes. So here is the card I made. I downloaded some free clip art and printed it on fabric.
I made the leap and printed Scooter and Mr C on the quilt. I think the repeating images add to the sense of walking through the landscape and add some needed contrast. I did a check of the value contrast by making the photo in gray scale. It looks good.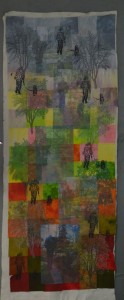 Here is a detail.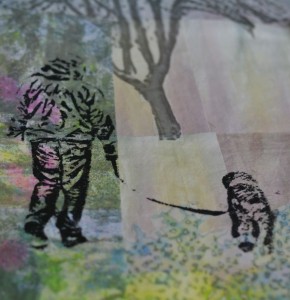 Tomorrow, I will start quilting. I think that I have to keep the quilting clean and simple so it should go easily. My dilemma is how to finish the edges. I hate all the handstitching, but I think facings are the way to go.