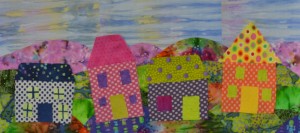 Not cerebral, at all. I just sliced and diced and fused. I still need to add some architectural details and some vegetation. I hope to get it nearly completed tomorrow.
I made some corned beef and cabbage with egg noodles for dinner tonight. Not very exciting, but tasty enough with a beer, not green.
I made this homage to St. Patty's day for my 3 x 3. I think I need to redo the machine quilting – pretty bad.