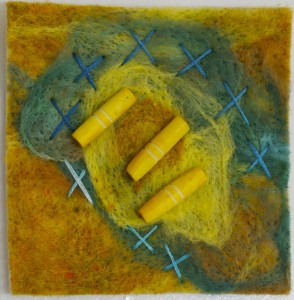 I had one of those days with no immediate deadlines, but lots of things that need to get done before we leave town next week. So, I was doing many things at once. This is today's felted 3 x 3 with a bit of embellishment.
I also worked on some quilts to submit for my guild's show that is coming up and the quilts need to be turned in while I am gone. I want to submit one of my aspen quilts. I took it to my crit group last fall. The guest critiquer teaches art at Univ of Oregon. She suggested that I pump up the red in one of the branches of leaves to have more of a focal point. So, today, I took a big breath and went at the leaves with scarlet Dynaflow.
Here is a detail of the leaves: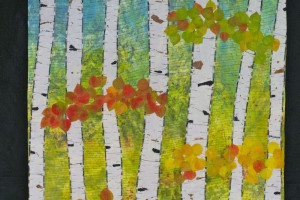 It is a subtle difference, but I think it helps.
I have been doing SDA work and lots of stuff for our Artists Among Us exhibit coming up in May. It was a glorious sunny day. Scooter and I go in 3 miles of walking while Mr C was working in Corvallis. Tonight, we went our for a delicious dinner. It was a good day. And still, no baby!