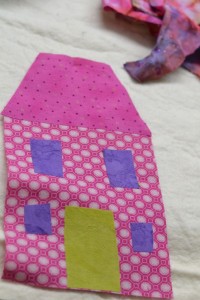 I was having so much trouble with my motivation and energy, trying to use a photo as my inspiration. I had to do something else.
Here is the story. I showed these fabrics a while back: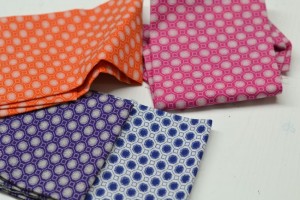 They are part of a line of fabrics, Coral Tree, printed in Africa and represented by Magie Ralph in the UK. Helen Conway, part of the Twelve by Twelve group, asked us if we would be interested in receiving a set of fabrics from Magie and then making a quilt to hang in her booth at UK quilts shows. Terry Grant, Diane Hock and I, plus Helen, volunteered to participate.  We each selected a different pattern. You can see Terry's quilt, here.
When I first received my fabrics, for some reason I flashed to buildings of some kind. The colors reminded me of the colorful buildings in Tabermory. So, that is what I settled on. I enlarged my photo and made patterns and started cutting and laying it out yesterday. I was not enjoying it. I am not a realistic, pattern kind of quilter. I like to work improvisationally. I wondered if these fabrics would work with some of my funky commercial prints. I decided to go in another direction and create a little village of wonky houses. I think it works.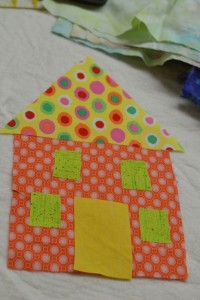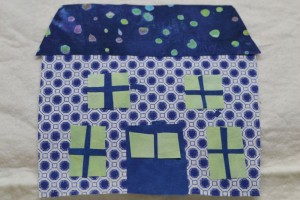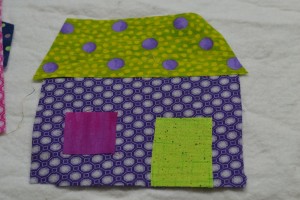 I was so happy that I didn't want to leave my studio, but we had an early dinner reservation and so I had to leave. I can't wait to work on the landscape for this tomorrow.
Here is today's 3 x 3: