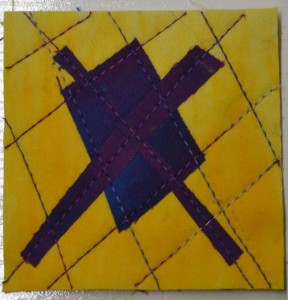 It is March! I am loving March already. I will be a Grandma again. Mark's little girl is due to arrive sometime around mid-March, and I can't wait to hold a Congdon baby again.
In my studio, it will be a month of yellow 3 x 3's. I need to put away my pile of blues and start pulling out the yellows. The first is up there to welcome you to March and spring.
Before I forget, here is the last blue 3 x3; a leap year 3 x 3!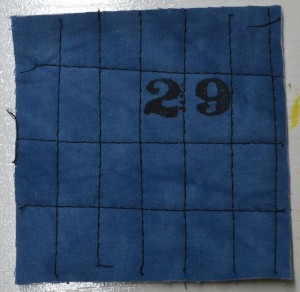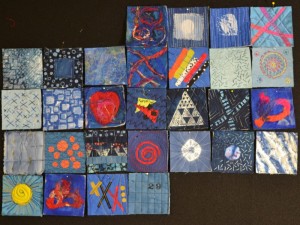 And here they are, all together.
I want to thank those of you who made the nice comments about the big piece I am working on. I made it through a very hectic day yesterday. I thoroughly enjoyed the time I got to spend with M & M, who are growing up right before my eyes. They are such wonderful and thoughtful young people. I am so blessed to have them in my life. We managed to get to school right on time this morning.
I came home and put my feet up for a bit and then finished the documents that I needed to send to the accepted artists for the Trinity event in May. Once they were approved by the committee, I sent them off.
Now, Mr C and I are getting ready for our week-end in Seattle. I am going to the Washington State SDA symposium on Saturday and on Sunday, we have the opening of the SDA members exhibit at Ballard Works. I have one of my Aspen pieces in the show. Tomorrow afternoon, Mr C and I are going to the Seattle Art Museum to see the Gauguin exhibit. It will be a fun week-end, seeing old SDA friends (like Jane Dunnewold) and meeting some new friends, eating great Seattle cuisine and enjoying the many facets of art.
I might be able to check in with some goings on; we shall see.