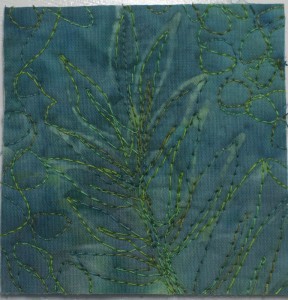 This was a pretty good day, with less driving! We went back out to the Painted Hills area and drove back to two different short hiking trails. The first was leaf hill which is an area where many botanical fossils have been found. For some reason, I lost the photos that I took there. It was interesting, but not that photogenic. The next area, Painted Cove, was breathtaking. It was an area where you could get up close and personal with a painted hill. Here is Mr C walking on the special walkway.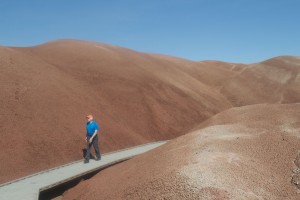 Here are a couple of other shots.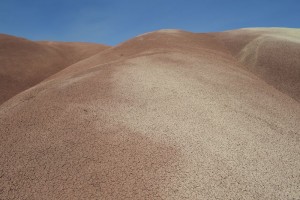 The lower  rock is really lavender – it is lava rock. Click on this and you will see red, lavender and chartreuse with some shades of blue.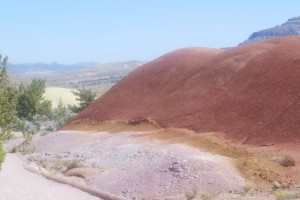 I took this shot with Instagram on my iPhone. I did no fiddling with the color. This is how it looked.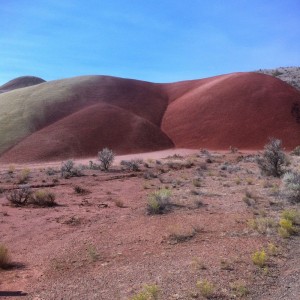 We then went back to the overlook of the famous painted hills. The greens were much more vivid in the morning light. The whole place was a riot of color.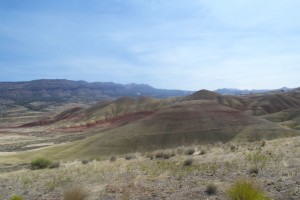 I took a panorama shot with an app I have on my iPhone. Click to see it enlarged.

After lunch, we drove out to the town of Fossil. We were going to go to the fossil beds, but it proved to be a bit more of a drive than we want to take. The landscape ran the gamut of wow to bucolic farm scenes.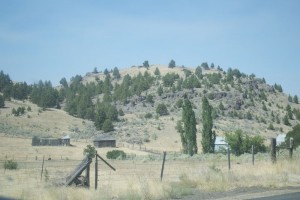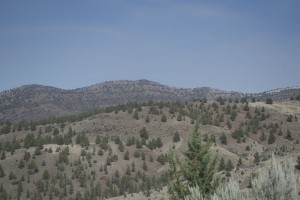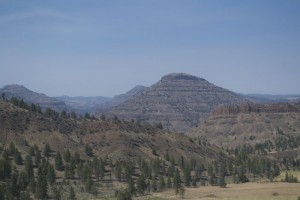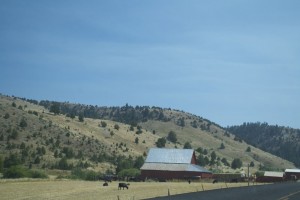 This was a view driving back to Mitchell.
Tomorrow, we will pack up and head to Bend for some R & R at the Riverhouse Resort. We were going to go to Joseph, but are going to save that for another trip when we can stay longer.
I think it is cooler here than Portland. We have the windows open, feeling a cool breeze and watching a French film we found in the DVD library here at the cottage. So I shall say adieu! We will be driving back to 98° in Portland on Friday!