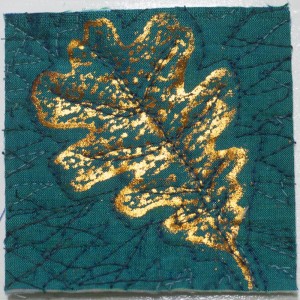 It is too soon, August!! Summer is getting away from me. A new month and a new color for my 3 x 3's. This month, I have chosen the cool color of blue-green. I did some foiling for the first one. And, here is today's.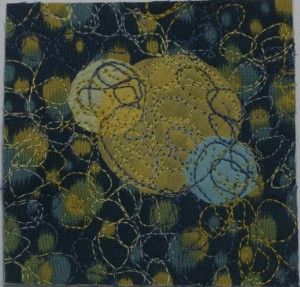 I spent much of yesterday and this morning cleaning up my studio, putting away magenta fabrics, pulling blue-green and procrastinating. I find it so daunting to cut into beautiful fabric – so afraid I will waste some or make a mistake. After lunch, I just did it. I have created some simple fused blocks in different sizes. This is a technique I learned in a workshop with Melody Johnson. I have not used it in a long time, but felt it would work well for the Rhythm and Hues piece.
Once I got started, I couldn't stop slashing and fusing. I think I have enough blocks to put into a composition tomorrow.
I have been asked by the editor of Art Quilting Studio, published by Somerset, that they would like me to write two articles for them. One will be on my abstract quilts that I construct from my art cloth. The other will be about making my Aspen Quilts. I will also have some pieces featured in an article on patchwork quilts. Mine are fused, but fit that theme, I guess. I have to ship 10 quilts to them for photography. I had to arrange to retrieve two of them from the High Fiber Diet elements show. Fortunately, they were not due to be hung until September.
This is very exciting and very unexpected. I am not sure what is happening, but it feels pretty good. We have a lot of traveling planned this month so I have to get organized and work smart.
That is it for tonight. I want to watch the adorable Gabby Douglas win the gold medal in gymnastics. I think she looks like a young Oprah!!