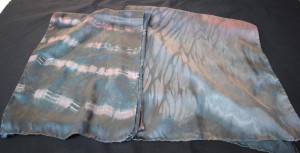 The silk black dye worked its magic. These two scarves were underpainted with the dye soup. The scarf of the left was clipped with some bag closers that look like barrettes. The larger scarf was pole wrapped. I just love these two. Click on any of the photos to see it enlarged.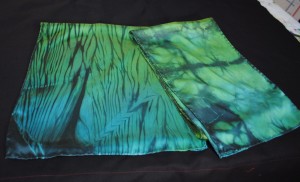 These were underpainted with a turquoise to green gradation. The smaller scarf was accordion folded and held with rubber bands.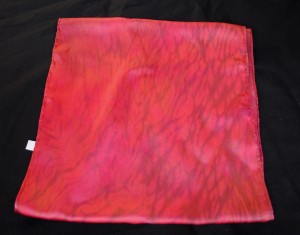 This was the yellowish orange shibori scarf from yesterday. I overdyed it with rust and then pole wrapped and it went into the black dye. Silk has fewer dye receptive molecules so by the time this got into the black dye, it was just about done in. Still has a subtle beauty.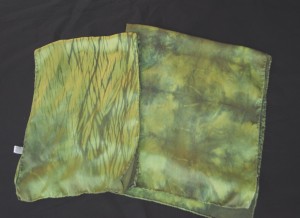 These were dyed with the chartreuse dye first. The piece on the right was folded and held with rubber bands.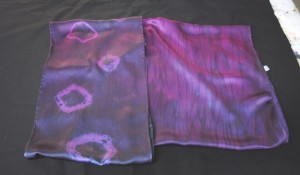 These were underpainted fuchsia to cobalt blue. The scarf on the left was tie dyed with rubber bands.The tied circles are all different colors – very cool.
I am really happy with these. I had a problem with the wrapping coming off the poles so some of these have one end that does not have as much of a pronounced shibori pattern, but it all works.