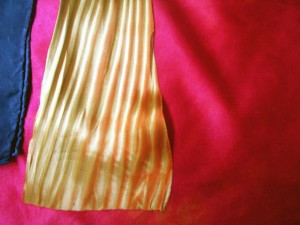 The next Twelve X Twelve color theme, selected by Kristin, is based on the colors related to the Kilauea Volcano. Not surprising, since she lives in Hawaii. I love the colors — red, ash, black, orange, chartreuse and orange.
I started thinking about my piece today. It wants to be silk. I started pulling some silk fabrics. That yummy shibori up there in the first photo was in a batch of scraps that bought from Shibori Girl, Glennis Dolce.
Here is another batch of possible silks: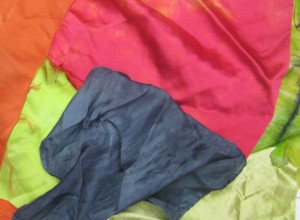 I decided I need a better black so tonight I dyed a couple of pieces of silk. Tomorrow, I hope to have something luscious to work with.
It was a very nice day in Portland. I think by the end of the week, we will have fabulous weather.
By the way, I have had very good results with my low carb eating plan. I have lost some weight every day and have not felt deprived, except that I am really missing whole grains. I have one more week of no starches and then I can add some into my eating plan. Right now, I need to get my blood sugar stabilized and get my body off too many carbs.