After a day of fooling around, I got back to work in my studio today. I love this little fiber sketch that I made. I titled it pods. I love compositions with skinny black lines. I am trying to see how I can incorporate some in my work.
We had the pleasure of listening to chainsaws most of the day, as they removed a couple of invasive Black Locust trees.
I am working diligently on my Allegro piece. It is very time consuming compared to the work I usually do. I have to stitch and trim the little pockets and then get them in proper order and pinned to the background. This is the background. I like the way it adds another dimension when the organza pieces are placed on top.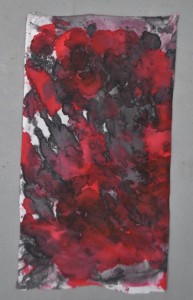 I am not using any batting since I have the background and a backing and then the layer of organza pieces. I am getting each row lined up an pinned in place. I will probably play with the white pieces some more.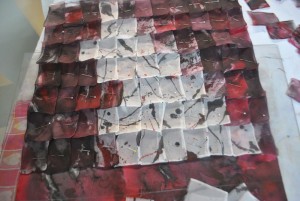 Look at what Mr Scooter did — knocked a box of bead soup on the floor. I had to get the cleaned up today. Maybe he was just sending me a message — clean up your mess when you are finished with a project.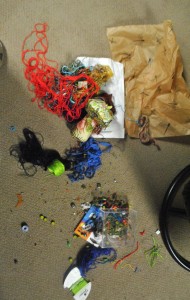 I received some exciting news today. I have two pieces in the Blurred Boundaries show at the Fabrications Retreat. Apparently, Indigo Construction has sold and will not be coming home to me. That quilt has traveled a lot and I think it is great that it will have a permanent home.