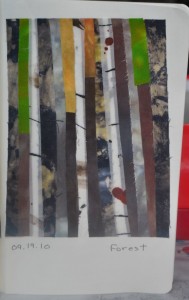 I used some of my fused skinny bits to create this fiber sketch of a forest. I like it. I think it has possibilities for a larger version.
Here are the results of my rust dyeing. A caveat – the pole was so corroded that I could not scrunch the fabric for traditional shibori.
I did the blue-green fabric and a plain white.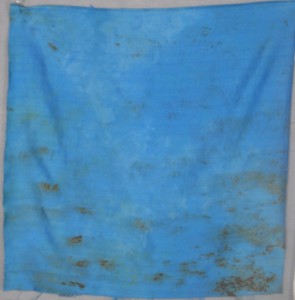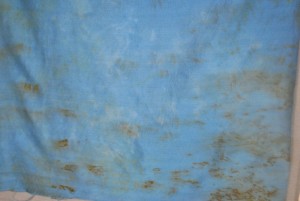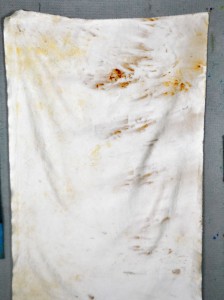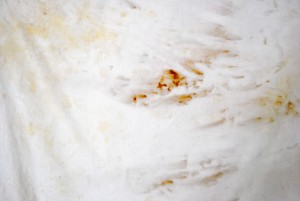 Tonight, I overdyed  the white silk with a paler shade of blue-green. I think I will like it a lot. I hope I can combine the two fabrics in the challenge piece.
I spent a lot of time stitching down the pojagi pockets on Allegro. I am getting to close to this piece and am starting to have a love/hate relationship with it. I must finish it – tomorrow, I hope. I first basted the pockets and then zigzagged them down to prevent fraying.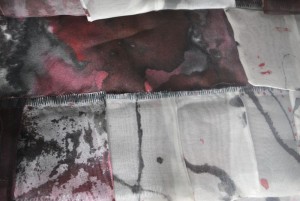 The SAQA auction started today. My piece, Entwined Roots is in the first group of quilts.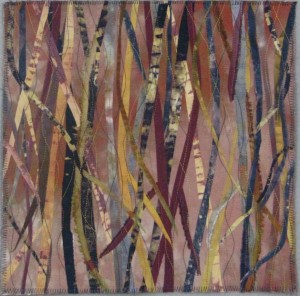 The price today was $750.   Tomorrow, the price goes down to $550, then $350, $250, $150 and $75.  Unsold work will be placed on the SAQA website for a month and then returned to the artist. Here is a link to the quilts, if you are interested in supporting SAQA and getting a nice piece of art.
You might notice the new buttons that I have in my sidebar. I got an e-mail from Wikio telling me that I could show my overall ranking for my blog. They have me in the craft category. I don't know if there is a quilting category. There is a needlearts category. The buttons will change as my ranking changes. It will be embarrassing if it goes down! LOL