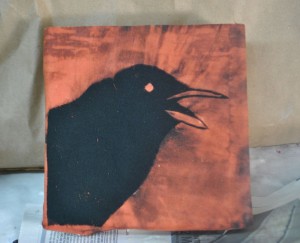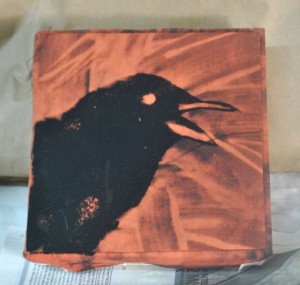 I am working on a small 6 X 6 inch piece for a fund raiser for the Portland Audubon Society. Around 100 artists sign up and get a 6 x 6 canvas from Art Media and then create a work of art with a bird theme. They are for sale at the  Wild at Art show in November.
I got this idea to do a crow by blocking out the crow with a freezer paper cut out on black fabric and then discharging the color around it. I used a chlorine based gel cleanser.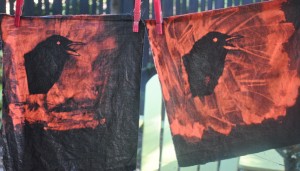 I now have to sandwich and quilt it. I want to put a bright colored berry in his mouth – not sure what color.
Here is my fiber sketch for today. I call it leftovers because I made it from leftover scraps. (Editors note: blogging late last night, I forgot the photo!!)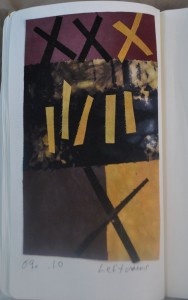 I forgot to mention that I bought a piece from the SAQA auction by Sue Dennis from Australia. It is monoprinted on whole cloth. It was selected for the Quilter's Guild of NSW 2010 Calendar and appears as the quilt for July. I can't wait until it arrives.