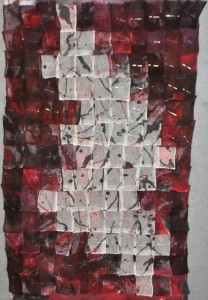 I have Allegro pinned in place and hanging on the design wall. I want to get this finished and move on to other things. I am really itching to make some new cloth. I want to work a little on the white section and make it a more fluid and less staid.
Here is my latest fiber sketch.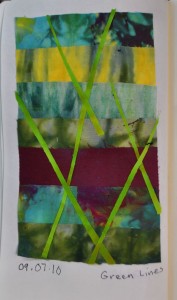 Tomorrow, I will finish my term as president of the Columbia Fiberarts Guild. So, today I have spent a lot of time finishing up details for the meeting tomorrow. A couple of years ago, on a whim, I agreed to be president-elect. I was new to this guild, but I have run a business and been president of many organizations. Still, I think there was some skepticism about me. I spent a year as president elect, not doing much at all. This past year has been a pleasant experience for me. The guild is small and the members who volunteer for board positions are very competent so my job has been to facilitate and nag. We have accomplished quite a lot. And, I gave my president-elect lots of jobs to do. She is going to do a great job in this coming year.
After the guild meeting, I have a SAQA meeting. It will be a longish day. I am thrilled that SAQA in Oregon is finally active. Our first juried show will debut at the end of this month at the Northwest Quilting Expo.