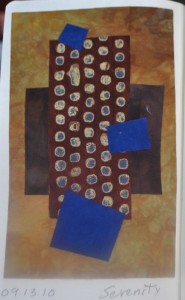 I had a very busy and eclectic week-end, but today, I had no energy and no get up and go. So this will be a short post as I think I am coming down with one of those pesky viruses.
Tonight, I finally spent some time in the studio and made this little fiber sketch. I titled it serenity because the colors and the simplicity made me feel calm and happy.
I am in the process of basting Allegro so that I can remove the pins. It is slippery silk and giving me fits.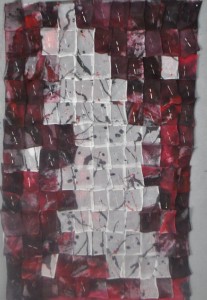 I wanted to share this photo of Jayme, our daughter in law, with our son. She is officially starting medical school and on Friday, she had her white coat ceremony. Only two people could attend, so Mark and her Mom were there. Her family descended on San Francisco to celebrate. We were sorry that we could not be there.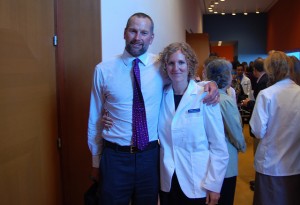 We have plans to go down next month for my birthday and will get to see every one then. I am going to sign off and get to bed early.