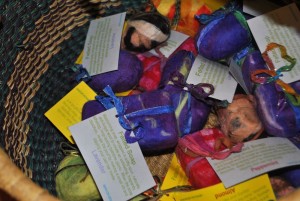 Our weather is cold and dreary and drippy again. The weatherman says we will have a colder than normal winter with higher precipitation which translates to snow. I have decided that I want to embrace what ever comes my way. I do not want to spend the next two seasons kvetching about the weather. Do you think I am up to it?
Yesterday was a very busy day and I never got around to blogging. After my two meetings and a trip to the farmer's market, I found several SDA website things that needed to get done. I decided to get those things done last night so that I could have a studio day today. Unfortunately, my computer work extended through most of this morning. I really didn't get much done today.
The photo above is a basket of the felted soaps that I made. I created little tags with the ingredients of the soap and directions on how to use them. I gave them as gifts to the guild members who served on my board.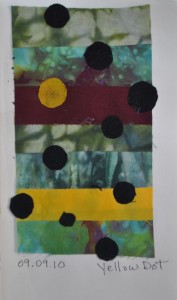 This is Yellow Dot, my latest fiber sketch. It is the same background as the last one I did.
I mentioned some time ago that my photo was going to be used in a show by Susan Lenz. There are about 170 different portraits of people and their decisions. Mine was to have a mastectomy. She sent me the following which is an ad for the show with my portrait. I was very excited to see this. Click on the image to see it larger. You can read about the installation here.
Today, I read Jane Dunnewold's blog, Existential Neighborhood. It was about paying attention to details, but this paragraph really spoke to me:
I think that's why eventually we have to get away from other people and focus on working alone. How can you discover your voice if you are always singing with a choir? Your timing, the phrasing, that lilt at the end of a line – you need the courage to go solo in order to unfold.
I sometimes feel lonely and wish for the camaraderie of other artists, but I also know that I am growing as an artist as I work alone in my studio. I do miss my monthly critiques with Terry and June.
Also, please take a look at the fantastic Mistyfuse badge that Iris Karp made for me. Isn't it cool?