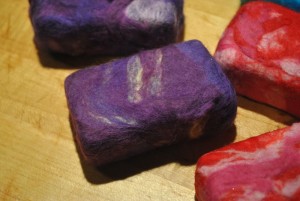 I have spent most of today felting bars of soap. It is fairly easy to do, but a bit time consuming. I am coordinating the color of felt with the scent of the soap. The purples are lavender and the red/pinks are peppermint.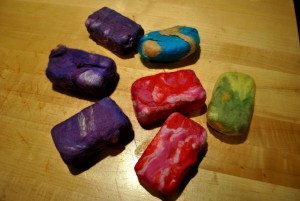 The green/yellow is citrus and the beige turquoise is honey almond.
I have several more of these to do. I need to redo some of these because I used too much felt or stopped the felting too soon. Still, it is a very relaxing thing to do.
Basically, you lay out roving fibers in layers, alternating the direction. Then wrap the soap in the fibers. Stick it in a nylon stocking and run some hot water on it. The you just start squishing the soap and fibers as if you were washing your hands. You can speed up the process by rubbing the bundle on something like bubble wrap.
So that has been my day.
It is labor day week-end which is usually our anniversary. On Sunday, we will have our 46th wedding anniversary, We are going out to a very special restaurant tomorrow night.
Hope you have a great holiday week-end here in the states.