So what has transpired since I last posted? I finally am feeling normal after my pesky virus attack. I got my hair cut and the color freshened – that made me feel better.
I got a rejection letter from Quilts=Art=Quilts. I was disappointed because I really like that show. I was in it two  years ago. I know that shows like this one are very dependent on what the jurors are looking for and I think it will be a more abstract show this year. Anyway, I have two quilts to enter in other shows.
Last night we had a wonderful Eucharist at Trinity to celebrate the harvest season. It was set to the music of Neil Young and was very inspiring. I may be in my 70s, but I am not stodgy about changing things up.
You may be wondering what that photo up there is. Well, it is a rusty pipe that Mr C saved for me when he tore up the old irrigation system in our front yard. The theme for the next Twelve x Twelve colorplay is rust and blue green.

I thought I would try doing some shibori rust dyeing with the pole up there. So I soaked some silk fabric in vinegar and water and wrapped it around the pole. Then I sprinkled it with salt and wrapped it in plastic. Now, I wait.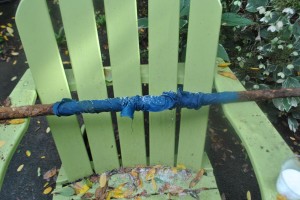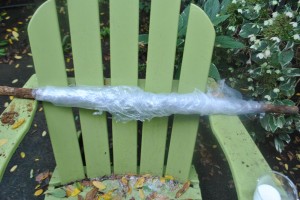 I am almost finished with Allegro. It is all basted. I just need to do the final stitching of the pockets and trim the seams. It is going to be a difficult piece to  photograph because of the transparency of the organza. Here is a detail.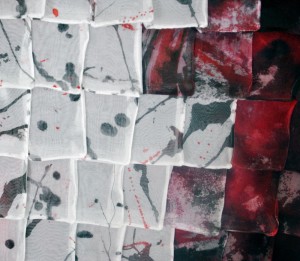 We have been having strange weather. Long, warm sun breaks and rainy downpours. The temps have been mild so it is easy to take. Hope you had a good week-end, too.