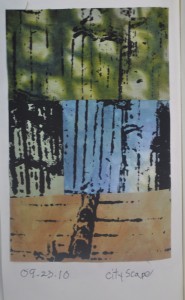 This is the extent of my studio work — another composition from my screen printed fabrics, called Cityscape.
Today, I planned a lot of time in the kitchen using the fruit I bought at the farmer's market, yesterday. My dang nose had other plans. I am back on cortisone nose spray and the heat is on because it has been cold so my nasal passages are very dry. This morning, I blew my nose and a fountain of blood poured forth for what seemed forever. I finally collected myself and got on with the day, but I was not happy with the situation.
I did manage to make a batch of peach freezer jam, a batch of plum chutney which we had with grilled pork tonight (yummilicious) and I roasted copious numbers of cherry tomatoes to use for pasta and pizza. I will have a lot more tomatoes by the week-end.
I finished the cooking just in time to get cleaned up and head to the eye doctor. I have had some blurriness which he says is the start of cataracts. I knew that was coming sooner or later. Not bad enough to deal with, yet. I have to go in for a field of vision test, whatever that is!!
Good news! My Entwined Roots in the SAQA auction sold today so I don't have to worry about that. It is a fun thing to do, but you don't want to have it sitting there with no one buying.
I have been asked to be a last minute substitute for a panel discussion at the SAQA show at the NW Quilt Expo. It is about Finding Your Artistic Voice. Terry Grant was already scheduled plus one other member from Portland. I think it will be fun.