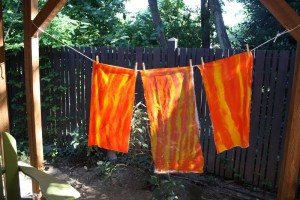 We are leaving for New York two weeks from today. In that time, I need to get three pieces finished — all small. Two are gifts and I probably won't post much about them. The third is our last colorplay quilt for Twelve by Twelve. Terry chose orange. She gave us specific directions about the orange — "I want to see a strong, saturated orange ranging anywhere from cheddar to flame, but pure and unadulterated."
I have some commercial batik oranges, but not much else. I decided that I wanted to play with this a bit so I went out to Art Media to pick up some orange Dynaflow. I also replenished by yellow and scarlet.
I grabbed some raw silk for the texture and a piece of shantung organza, which also has nice texture. I wet the fabric and painted with shades of orange with some yellow.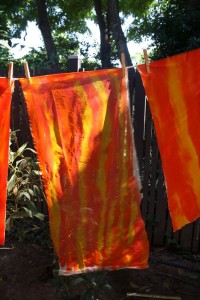 I hung it out to dry. The joists for the new deck make a great place for me to have a clothesline!
Tonight, I ironed them and had fun adding black markings. I used a tiny paint brush, a pipette, a chop stick, a syringe and a string.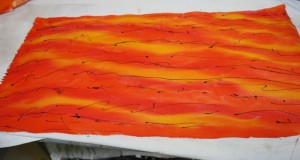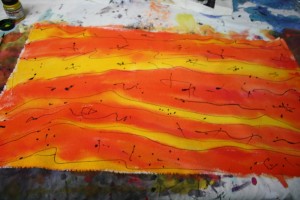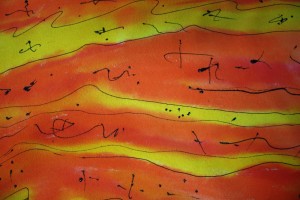 This is the organza piece.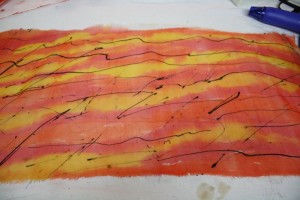 This is probably the last I will show you this as I create my imagined composition out of this fabric.
This little piece is going to a new home: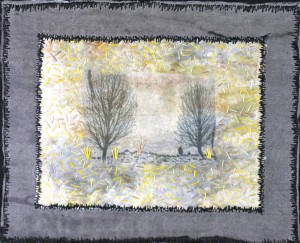 For a hanger, I found this in the belt making section of Mill Ends and stitched it to the back.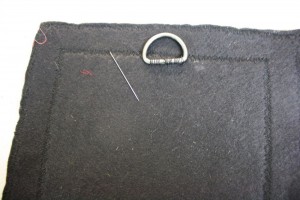 It is nice to have a few days o feeling great and time to be creative.