I forgot to show this quilt yesterday. Perhaps it is the farm girl in me, but I was very taken with this quilt which uses an antique quilt from Iowa as the base. It is then embellished with corn stalks, oak leaves and other flora. The damage to the old quilt has been incorporated into the design. Be sure to click on to get a better look.
On Saturday, we decided that we had seen enough of the quilt show and set out for other venues. Terry, Beth, Jeri and I took the free trolley to the end and then enjoyed a nice walk to the American Art Company where they have the 11th Annual Art Quilt Invitational.
Tacoma is trying to reinvent itself into an arts community. I liked this outdoor sculpture.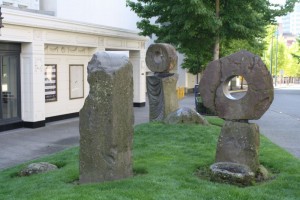 The show at the American Art Company was very nice and hung very well, giving the pieces lots of space to breath. I have several friends who have work in the show. Here are the pieces that I was particularly drawn to.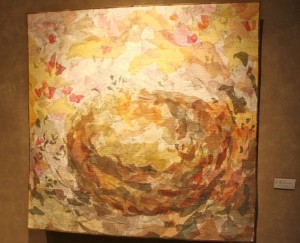 This is Nest by Erica Carter. Click on the image to see a larger version.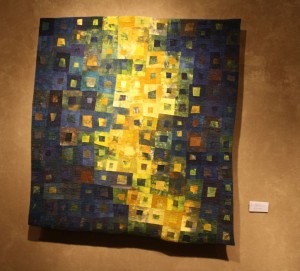 I love the way Janet Kurjan arranged the blocks of color  for this piece titled, Light Ray.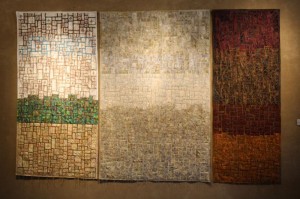 This incredible piece by Toot Reid is titled, "September 28, 2010 – March 8, 2011". Here is a detail: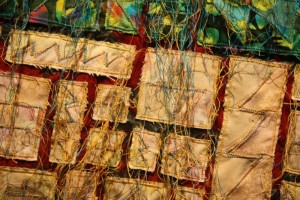 After leaving this venue, we went down to the Tacoma Art Museum. Three of us perused the book store while Jeri went in to see Chihuly's Pendleton Blanket collection. We had lunch at the museum cafe where I enjoyed looking up at the ceiling.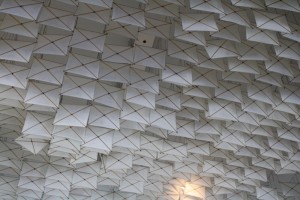 I had fun at the quilt show doing a little shopping.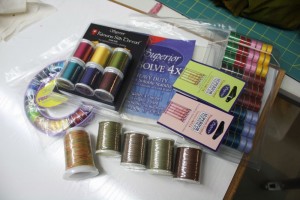 I got thread, pre-wound bobbins, titanium needles and soluble stabilizer from Superior Threads.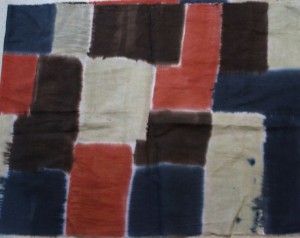 My friend, Judy Bianchi from Sonoma County, creates gorgeous fabrics. I had to purchase some. This is a cotton/linen blend with a lovely color block print.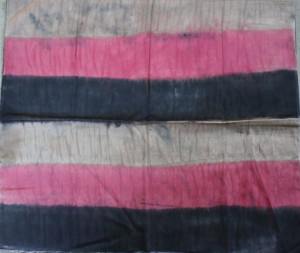 This is a gorgeous silk/cotton bend.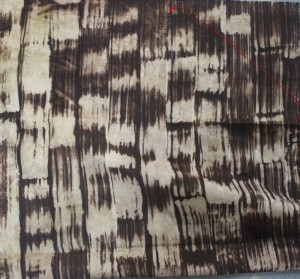 Judy has been doing a lot of soy wax batik. This is done with brush strokes. I see tree trunks!!
It was a fun trip. I want to give a shout out to my blog readers who recognized me and stopped to say hi at the show.  I am so happy to just be home, now. I only left the house to take Scooter for a walk. Tomorrow, I have my pre-op appointment for my cataract surgery. The right eye gets done on September 8th.
Be sure to check in here on Wednesday as I am giving away a copy of Masters of Art Quilts, Vol 2. It is a gorgeous book.