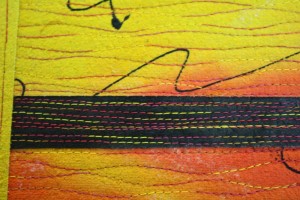 I am just about finished with an orange piece. I just have to finish the edges. Here is a sneak peek.  And I have lovely bits of pieces like this in my studio. I might have to find a way to use them.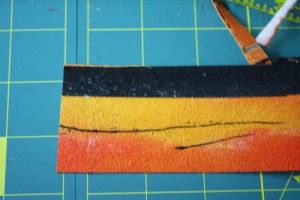 Today, the New York Times had a full page Starbuck's ad — photography by my daughter, Stephanie.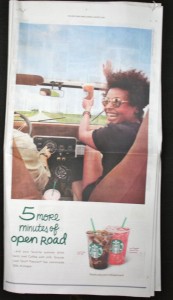 This was taken on a photo shoot in Austin, TX. She was in the back of a moving top down Jeep when she took this photo!!
I also finished the Kayak in the Lily Pads. The lily pads gave me fits!!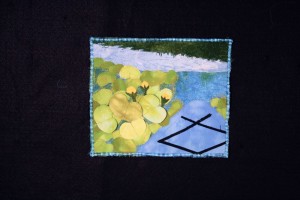 I did some free motion quilting on this. It is the first time I have done that on my new Janome Horizon. It has a push button conversion system so that you can change the plate to a small needle hole which gives a lot more control when quilting. It took me some trial and error to figure it out. When all else fails, read the manual!!
I am making a lot of progress on my night time trauma. I was doing well until early this morning when I was sure I heard someone trying to break into the house. I don't know what the noise was, but I couldn't get back to sleep. I just hope I am tired enough to sleep well tonight.