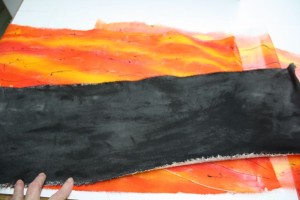 I went back to Pilates today after a week off. I am feeling it tonight. This morning, I decided I needed some black raw silk for the orange piece. I painted some with Setacolor. Now, I am afraid I have a total Halloween thing going on.
This afternoon, I started working on one of the other projects that I want to finish before our trip. I hope my sister will keep this under wraps. My niece had this really cool photo taken when she was in her kayak. I want to make her a little wall hanging of it.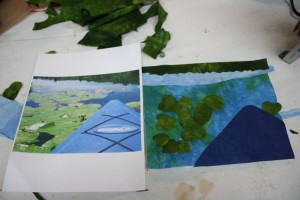 I am afraid my lily pads are a little too dark  so I have to redo those tomorrow.
My new monitor came late today. It was pretty easy to set up. I think I need to do a color check on it. It is so much bigger. I am loving it!!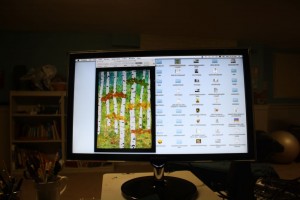 I received my sketchbook for the 2012 Sketchbook project. I think I want to do hand and machine stitching this year. So I plan to cut some pieces of fabric the size of the pages and start working.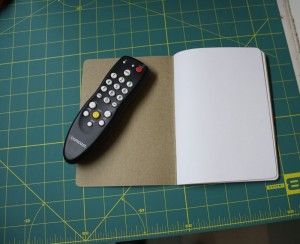 They did not send Moleskines this year and there was not a choice of colors.
We are blessed with some wonderful garden goodies from the CSA farm and the Farmer's market. I made a wonderful shaved fennel salad with apples and fresh pecorino from a local sheep cheese maker. Tomatoes are just starting to show up. I love vine ripened tomatoes in the summer!
Remember way back at the beginning of this year when I said Steph had an exciting photography job. I can now tell you that she has made two trips to Savannah and Austin to do photo shoots for Starbuck's. So if you are seeing bus, billboard, magazine or newspaper ads for Starbucks, chances are, it is a photo taken by Steph. I will try to post some for you to see.