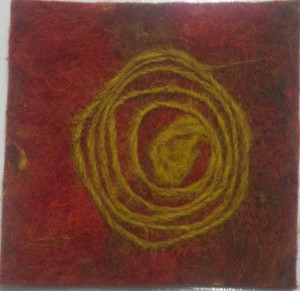 The Democratic National Convention is over. Maybe I can get back to more serious time in my studio. I have been knocking off and watching the DNC at 3 pm every day. I am a political geek. Bubba knocked it out of the park last night. It was our 48th wedding anniversary, and we stayed home with take out so that we could watch his speech. Truth be told, after two week away from home, we are not that in to eating out.
Yesterday, I went in to have my hair color done and told Kevin I wanted something different. I am now a sort of goth redhead. It is sort of a burgundy red. It is fun to have a change.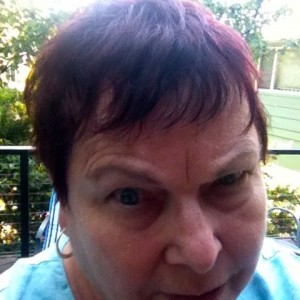 Between my CSA veggies and my own garden, I had a plethora of tomatoes so this morning I roasted 3 pans to go in the freezer for the winter.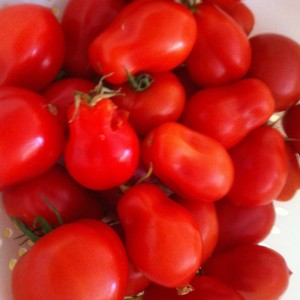 This afternoon, I went out to Terry's house to work on the Twelve by Twelve quilts. We unpacked them and made sure they were all presentable and attached to the felt backgrounds.
Meanwhile, back in my  studio, I decided to add some additional color to the water/kelp piece. I think it is great addition.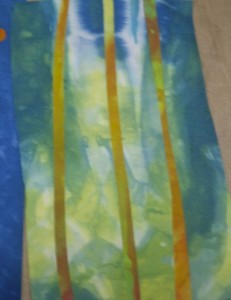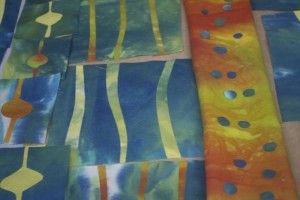 I have taken on the job of registrar for the Surface Design Conference which will be in San Antonio in June. I did the job 4 years ago. We will have a registration set up on the website which will make the job easier. Last time I had to deal with snail mail, e-mail and phone registrations. I am excited to work with all my friends down in Texas.
Her is the other 3 x 3 for today.