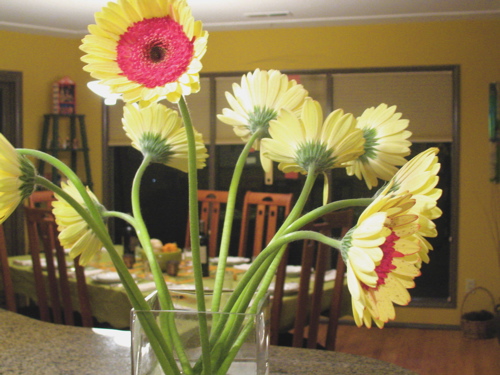 Aren't these Gerbera daisies pretty? And so un-Christmasy. I am bah-humbugging all the holiday decorations. It is only the first day of December!!
Our church sponsors groups of 8 members who get together during the year for dinner together. Some choose to eat out. some include children. We are in a group that meets in homes. Our new group came to our house for dinner last night. It is a very lively group. We have two single women — one is in her late 80's and is an incredibly delightful person. We have two other couples. I always love when people come to my house and the most interesting thing is the art on our walls.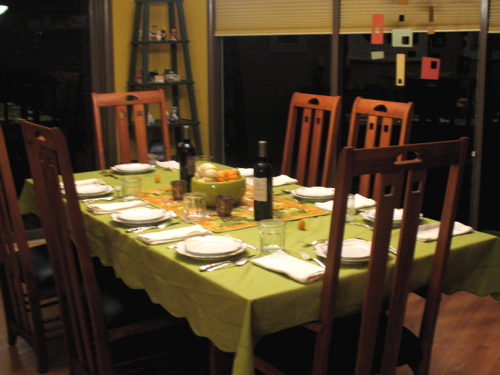 I love getting out the good china and and cooking big. I was responsible for the main course. I made pork medallions with a dried cherry and port sauce and polenta with roasted butternut squash. It was delish. I had my camera at the ready to take a photo, but alas, I got caught up in the moment and forgot.
I did get a nice foody photo of my breakfast this morning — oatmeal, fresh berries and yogurt.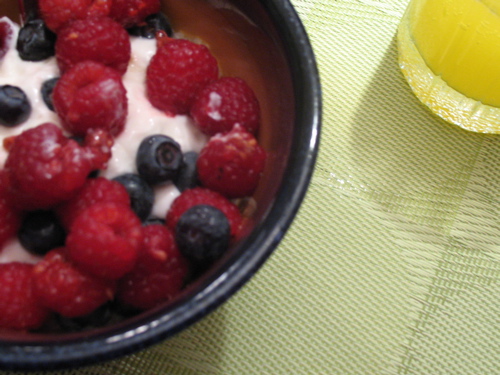 Yesterday, I rearranged some artwork and hung the beginnings of the Congdon Art Quilt collection.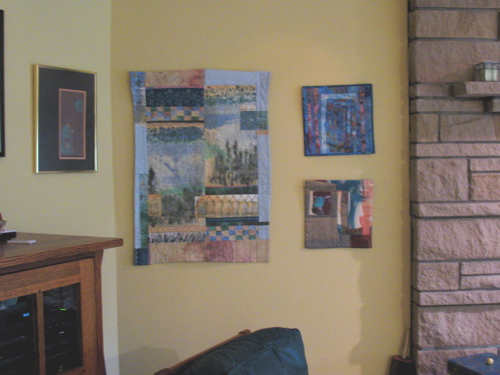 On the left is the piece by Kristin, the two on the right were purchased from SAQA fundraisers. The top one was made by Virginia Spiegel who is the ultimate fundraiser for American Cancer Society's Relay for Life. the program is Fiberart for a Cause. Please go over and check out what she is doing this year. There are prizes to be won!! The other piece was made by Elizabeth Fram. I also have a piece by Liz Berg which stays in my office with me. And Terry's nest also hangs in the living room.
Whoopee!! I finished the green thing and sent photos and artist statement off this afternoon. Here is a detail shot which shows the hanging threads which Deborah pleaded with me to include. (Sorry for the grammar?)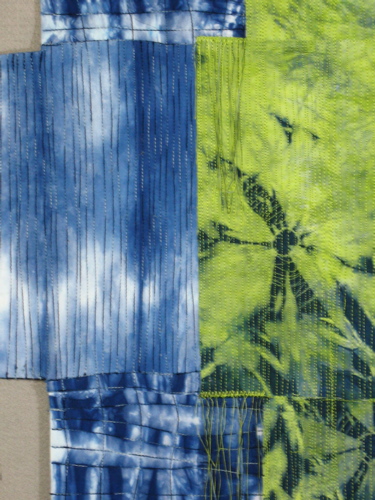 Tonight, we are going to Trinity for Lessons and Carols. For the non-Anglican readers, this is a very traditional service that heralds the season of Advent and Christmas.
In 1918, the then-new dean of King's Chapel, 34-year-old Eric Milner-White, wanted to try something innovative and beyond the standard liturgy of the Church of England. So, he wove together scripture and song, called on readers of various ages from school and town, and made up this truly magical progression that carries us from prophecy to fulfillment, from Old Testament foretelling to a birthday celebration.
What am I going to do now that the green thang is done? Stay tuned.