HGTV has a new program called Change the World. Start at Home. Here is some info from their website.
Change the World. Start at Home is a new community revitalization and environmental cause effort launched by HGTV in partnership with Rebuilding Together, the National Trust for Historic Preservation and the Natural Resources Defense Council. The campaign focuses on revitalizing communities across the country and helping consumers make smart choices for the environment within their homes and daily lives.

Starting November 8th, HGTV and its partners are inviting people across the country to help communities in need become thriving and abundant once again. By visiting hgtv.com/changetheworld, you can vote on communities and projects you feel are most deserving of a makeover. One project in each community will focus on environmentally-friendly improvements while another will focus on a historic place that helps preserve the fabric of the community.
One of the programs in Portland that would benefit from this program is the school that M & M attend.
The Sunnyside Environmental School has been in operation since 1995 and uses an academically challenging educational model intended to foster a sense of community, responsibility and creativity. The teachers focus their lessons on environmental awareness by creating a hands-on learning experience through the Sunnyside Environmental School Garden. This garden allows students, teachers, parents and community members to practice sustainability, environmental responsibility, creativity and community awareness. Since the inception of the environmental program, Sunnyside has tripled its enrollment. Because of this rapid growth, the Garden Classroom has very limited space for students. HGTV and its partners can help create an "Outdoor Garden Classroom" and maintain a high level of environmental awareness for these concerned students.
So, I am asking all of my friends out there to go HERE and vote for Portland. You can vote once a day through December 21. Thank you, thank you!
On a lighter note, today I took Mia to Nordstrom for some retail therapy to celebrate her birthday. We had so much fun. The sales clerks gave her a bag full of goodies for her birthday. They helped us select clothes to try on. Mia said. "I felt so special having people do nice things for me." Shouldn't a little girl feel special on her birthday?
We selected a sweater and scarf that matched the skirt her Aunt Lisa sent her. It looked so cute, she wore it home.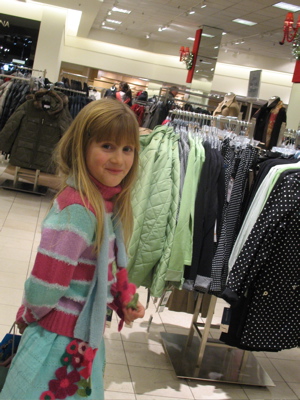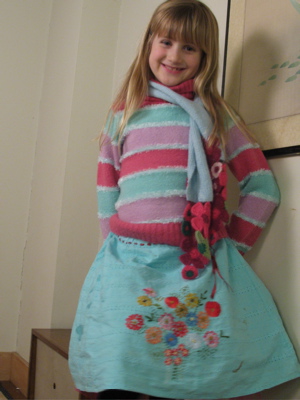 She also picked out this very trendy cap in wool plaid.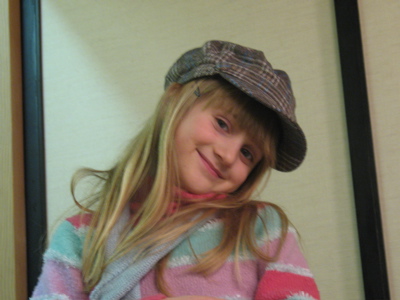 She also scored a really cute pair of shoes which I didn't get to photograph. They are canvas mary janes with polka dots and flowers – so cute. In general, I was appalled at the selection of clothing for an 8 year old. So much of it looked like something a street walker might wear, but in a child's size. I expected more from Nordie's.
We met up with the rest of the family at the Japanese restaurant with the uncomfortable name, Bush Garden. Mr C suggested that we not get the Bush Roll. We had wonderful sushi and sashimi. I had some Pearl Sake, made here in Portland. Here is Miles enjoying a Shirley Temple.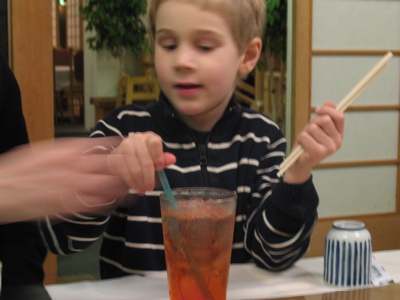 And now, I am wrapped in a blanket on the sofa with my laptop. I have a serious case of the sniffles and a scratchy throat. My first cold of the season. Hope that it is short lived.