I read in the Oregonian this morning that Portland is second in the number of bloggers in the nation. Number 1 is Austin, Texas. I don't think I know any bloggers from Austin. If you are reading this and are a blogger in Austin, please leave a comment and let me know.
Is this a result of global warming or a trick of Mother Nature? We have an azalea blooming in our yard.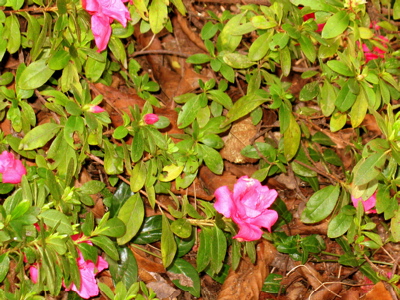 What would you do? Spend $69 on a slip cover or buy a new sofa? We decided to give the slip cover a try. The Christmas pillows are really old. I made them from Christmas Pot Holders that I appliqued to a colorful pillow cover. The beautiful wool coverlet was a Christmas gift from Lisa a couple of years ago. This is Mr C's office.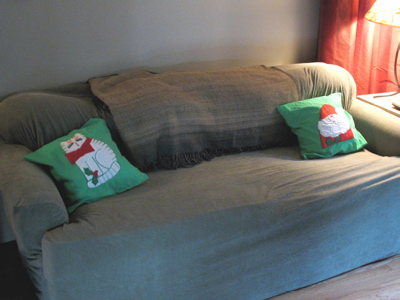 Project Runner continues. I did a nice decorative embroidery edge on this dupioni runner to match the decorative stitching I did in the center block.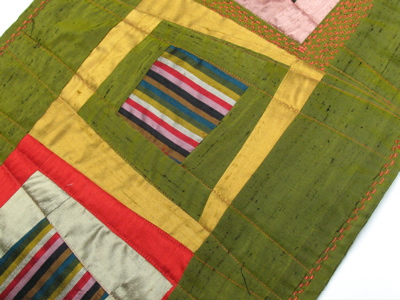 I cut, stitched and started hand sewing bindings for the four Christmas fabric runners.
I ran out of green fabric for the runners with the green Christmas borders. So, I bound them in contrasting red fabric that was used in the center blocks. They look great.
I, who never owned and I-pod before a month or so ago, now have two. The Nano I bought did not have enough memory for all of our cd's so I bought another one with lots more memory. It arrived today and so I uploaded all of our music and added the Christmas music which I had not imported to I-tunes, yet.
And so that is how I have been keeping busy today. Mr C, the great dad that he is, went to Steph's today and helped her finish painting her dining room in preparation for Mia's birthday party this week-end.