. . . but nobody got hurt.
But, first, a photo of my Christmas Table Runner. Mr C says this is his favorite of all the runners that I made.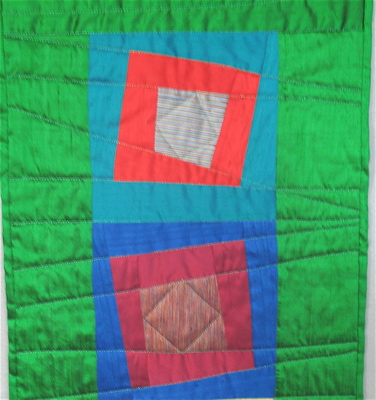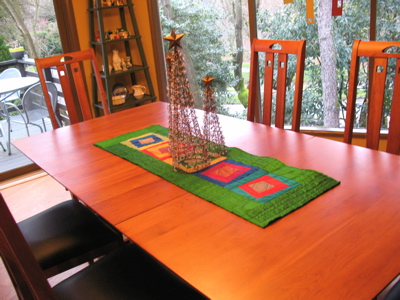 OK, I woke up feeling pretty good. I noticed that the stores were opening at 8 am. So, ate my breakfast, got dressed and headed out to finish my Christmas shopping. I am toodling along in the inside lane, the car on the outside lane was stopped and then I see a car pulling out of a shopping center, in front of the stopped car and aimed right at me. I slammed on my brakes, she hit my front fender and then the whole side of my car scraped against her license plate and front bumper. Total damage to my Lexus, probably $5-7000.
We both pulled into the parking lot. She had two very small children and a school age boy. She said he had a school field trip and she was picking up a lunch for him. I called Mr C to see what I needed to do. I got her name, her driver's license number, her license plate number. She showed me the insurance info. I saw that it expired March '08. I wrote down insurance company name and phone number and policy number. It was her mother's car. She says she lives with her mom and takes care of her as she is terminally ill.
The kids were crying, the little boy was anxious to not miss his school trip. I said I would call her later. I was just so happy that no one was injured.
I went on and did my shopping. When I got home, I called my agent. He said that I have 72 hours to file a police report – required when the damage is over $1500. He said that since it was not my fault, I needed to file a claim with her insurance. Whoops, phone disconnected. I am getting nervous. I called her. She said she would find the right number and call me back. No call. In the meantime, we got back with our agent who tried to track down the insurance company with no success.
I called the driver again. The phone rang and rang and rang. I remembered that she told me she had caller ID and didn't need me to give her my phone number. I called again on my cell phone and her son answered. After giving me the run around about her not being home ( I could hear her in the background), I told him to tell his mom that she needs to talk to me and that she needs to file a police report.
I am feeling bad about this. I could tell that she is a young mother without much — driving her invalid mother's car. But, I can't have my insurance cover this without filing a police report and I have to give them her information and I don't want her to get in more trouble by being in denial. Sigh…..
So, what did I do while all this phoning and detective work was going on? I was making Mrs. Maus's Fruitcake a recipe from Martha Stewart. Mr C loves fruitcake and since we are doing an open house next week, I thought I would make some. This is what 6 pounds of fruits and nuts looks like.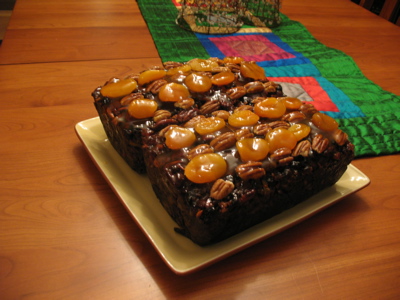 I also got my studio organized and put the piles of fabric away and swept up all the trimmings. There are lots of trimmings with the mod log cabin runners!
Tonight, we went out to dinner. I enjoyed a wonderful roasted beet and fresh pear salad and sauteed sole with spinach. I had enough left to bring home for lunch tomorrow. It was delish.