These words will pretty much describe my week-end.
In the bleak mid-winter — that just about describes today (I know, it isn't even winter, yet!). It was dark and cold with a few snow flurries. I didn't have time to sit by my happy light as I had to be at church early to help with the Art's Commission ministry fair.
Yesterday morning, I had an appointment to get my hair colored and cut. I thought I said that I wanted it a little shorter. She started snipping away and the next thing I knew, yikes!, it is really short. Short would be okay, if it were a decent haircut. If I get brave, I will try to take a photo so you can see. The worst part was that Mr C couldn't hide his dislike of it. Oh well, it will grow, won't it? In the meantime, maybe I will just wear a bag over my head.
I feel like such a klutz. I have fallen twice in two days, both times, I was carrying my coffee travel mug. Yesterday, when I came home from my bad haircut, I slipped on the mail that was on the floor because it had been slipped through the mail slot. I hit the floor like a ton of bricks. Today, while rushing in to church with my coffee in my hand and wearing high heels, I caught my shoe in my pants leg and down I went on the concrete steps, but, I did not spill my coffee. So, tonight, I am feeling a little stiff on the left side of my body. It is a god thing that I have strong bones.
Last night, we attended the Baroque Christmas concert at Trinity. It is such a beautiful experience. I love Baroque music. The musicians and singers come from Europe, Canada and the US. The musicians play authentic Baroque instruments — recorders, flutes, harpsichord and strings. My favorite part of the concert was a section of a Christmas Cantata by Bach, sung in German. After the concert, they served Wassail and cookies.
This afternoon, I finished another dupioni table runner, and started blocks for more, using my Christmas fabrics. I still have to do the bindings on both. If I had enough to do a bias stripe, Imight try it. I liked Diane's idea of using just a bit of the stripe. Instead, I will do a matching binding.

I made a boo boo on this one. The center block has the same fabric on the outside that I used in the border which looked weird when I put it all together. I tried to remedy the situation by doing some fancy stitching on it.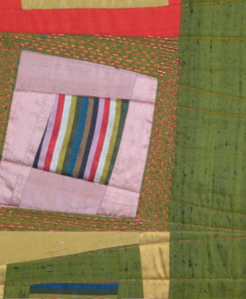 I used the same red metallic thread that I used in the quilting. I am not sure if it works; it looks better in person.
I want to make one more in dupioni, but decided to start on the Christmas fabric, for a change of pace.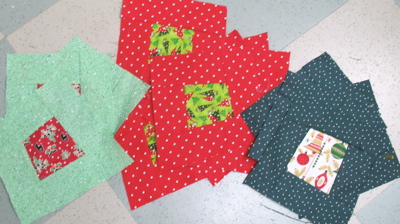 I am doing production work, making several blocks at a time with strip piecing.
So there you have it — my week-end.