…but it will take a while to dry up all the rain we have been having. My sis, Judy, e-mailed, wondering if we were ok because I hadn't blogged since Saturday. No problems — just busy.
Sunday was the opening of our "Small Treasures" show. I didn't take my camera so no photos. Terry sold 2 pieces as did several others. No sales for me and I don't expect any as I priced mine higher than most. That is ok, I will put them on my website after the show is over.
Sunday was also the day the rain became torrential and didn't stop until this morning. Sunday afternoon I went to the Paper Zone (I love paper stores!!) I found some blank paper and matching envelopes to print invitations to an open house that Mr C and I are having between Christmas and New Year's. Lisa will be here and she is inviting her peep's who live in Portland. Steph will invite her friends, too. It will be a multi-generational gathering.
I managed to get a photo of the front door on Saturday, before the rain started.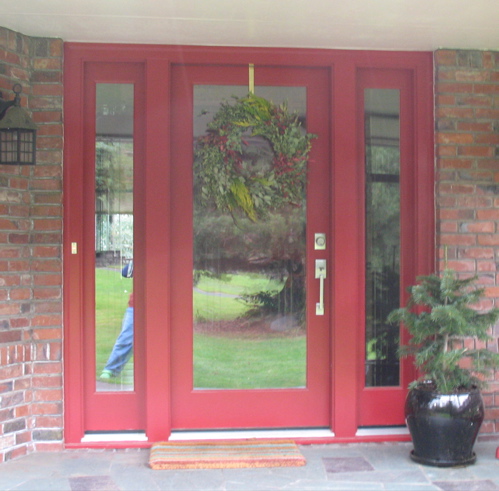 I played with it in Photoshop and got rid of the reflection of my leg!!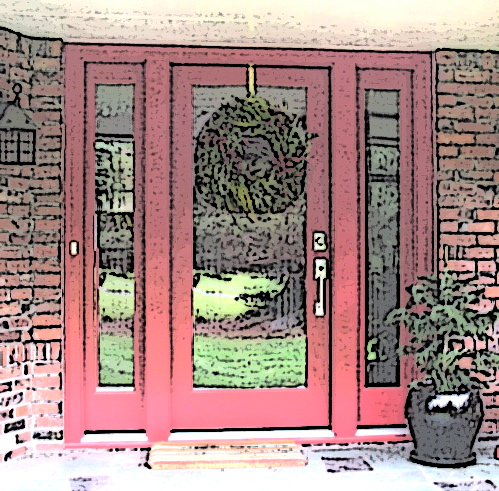 I selected paper in a bamboo color and printed the invite.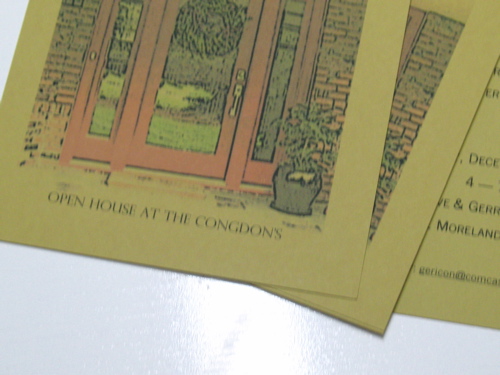 I did a google search and found this charming verse which I used.
Let the warmth of friendship
take the chill from the air
and the spirit of the season
make winter easier to bear.
Yesterday morning, the weather was miserable and I had an appointment with my dermatologist so Mr C drove me through the wind and flooding streets. While we were out in Clackamas, we did a Costco run and picked up a new DVD player which plays nicely with our High Definition TV. We are watching a movie and it is fantastic. The player optimizes performance of DVD's for HDTV.
I tried to take Maggie for walks for the last two days, and we have both gotten soaked and it has been difficult to get my exercise points. So, I turned to this.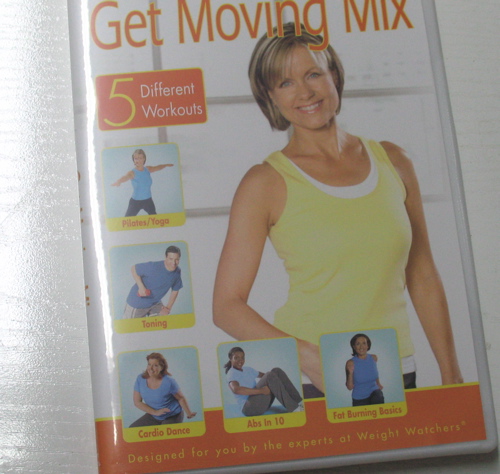 I have always enjoyed doing aerobics and weights, but we do not have a gym close to our home so I have not been getting in those activities. Yesterday, I did the 20 minute aerobic work out and today I did the toning. I must say that I am feeling it in my thighs and abs.
Today was beautiful and sunny and quite warm so I got lots of walking in plus the toning. I also cleaned up my studio so that I can start some new projects.
I have previously mentioned the project that Caron is doing to remember those lost in the Iraq war. She is assembling small quilt blocks – one for each American lost — which will have 212 French knots to represent the Iraqis lost. Look at what she and her minions have accomplished so far. Click on her name to go to her site to see other photos and how to's, if you want to contribute to the remembrance quilt.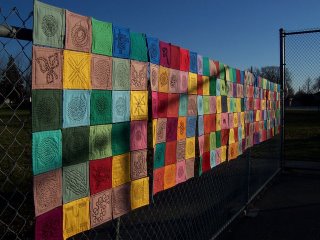 She was interviewed for Minnesota Public Radio. You can listen and see photos here. Caron, I am so proud of you. This project is beautiful in so many ways.