I find that I have to keep busy at all times. I do not want a lot of handwork left to do , two days before my show is hung!! So, I am trying to keep up with all the finishing things. Then, I can do hand sewing when I am tired and watching TV or a movie, as I am, tonight.
Here is the binding, with mitered corner ready to stitch on the Jerusalem Cross quilt.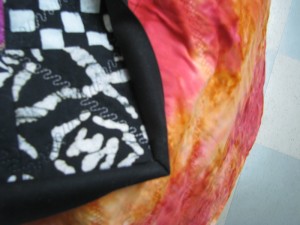 And the top and bottom facings on the urn quilts have been stitched and ready for hand work. The sides were done last evening.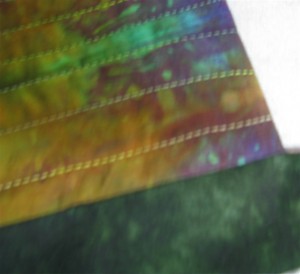 And, I cut sleeves for all of the quilts that I have finished. I need to do the machine work and then I will hand sew them to the quilts.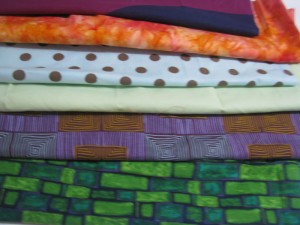 Yesterday, I went out to have a final fitting for my new bras and spent some time shopping for some new winter clothes. I found some incredible bargains. Today, I did my Friday WW weigh in (lost my turkey day gain!!) and got my hair cut this afternoon. I have not had any quality time in the studio to start my new pieces, but I have ideas!! I stopped at Mill Ends and bought some gorgeous gray silk organza and dupioni silk. These will be used for a couple of Israel security wall pieces. I also bought some interesting black organza with a very loose weave.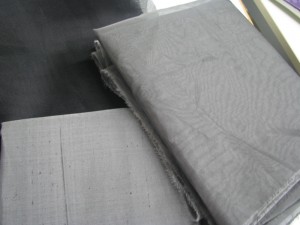 Olivier has been very busy with rehearsals. The first performance is tomorrow night and he has tomorrow free. He loves to go antiquing so we are taking him out to lunch and antiquing in Sellwood. He has one more concert on Sunday afternoon and then he leaves on Monday morning.
NEWS FLASH: KathieB, who comments often on my blog, attended Lisa's show opening in Milwaukee, WI. Go to her blog and you can see the amazing installation that Lisa did, titled, Life on Wonder Mountain.