Here is the print I did today. For this one, I used the Golden white ground. I am really impressed with the quality of the photo on this media. This is a photo of Roman ruins at Bet Sha'an, one of the favorite that we visited.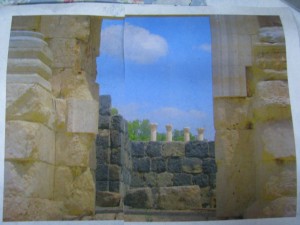 I used some leftover lutrtradur that was only 9 inches wide and sliced the photo for printing. the resulting print is about 17 inches by 14 inches.
I spent the morning finishing my Christmas cards and got them in the mail. I spent some time printing another photo on Lutradur and then Steph called and asked if she could bring M & M over while she and Jack did some shopping. Of course! I did a quick Trader Joe's run and spent the rest of the day doing what I love, hanging with the grands. We had cocoa and cookies. We lit the fire in the fireplace, played Christmas music and had a couple of games of Uno. Mia was absorbed with her new IPod – her birthday gift from her mom and dad. After Jack and Steph returned, I made burritos with left over pork loin.
Here is our portrait taken with the IBook photobooth.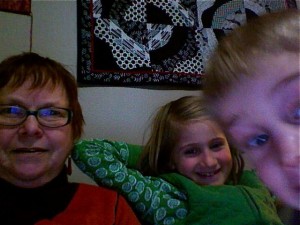 We are expected to get another dousing of cold weather and snow for the next two days so I will be able to fit in some studio time. If the weather is ok, we may travel across the river and through the woods to Terry's open house. That would be great!