Today, I accomplished  a lot of  things that had been hanging out there, just bugging me. I am coming up on a few days which could bring utter chaos to my life — the finishing and hanging of my show and the launching of registration for the Surface Design Off the Grid conference, for which I am the registrar. I am turning the dining room into the registrar's office so that Mr C can go back to the basement and finish what he had started when I kicked him out!! I have to get copies of letters and supply lists done, buy stamps and envelopes and start the online data entry. Whew!
I made a thermofax from a pdf that Kristin sent me and got it shipped to her. I also whipped up this little gilded pear wall hanging to go into another mailing.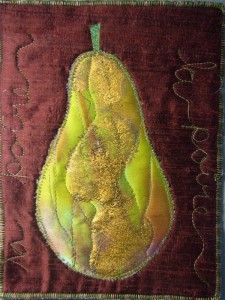 I am one of the invited artists for Virginia Speigel's Reverse Auction for Fiberarts for a Cause. Because of my show, I could not get a quilt done so I am giving one of my hand-dyed, discharged and foiled scarves. I had a couple of scarves with the discharged circles. For this one, I made a thermofax screen of x's. I screened the foiling glue onto the scarf: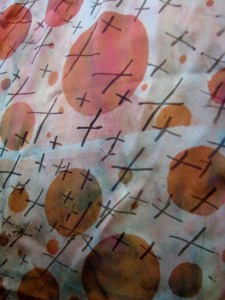 Then, I ironed on copper foil. I call this the hugs and kisses scarf!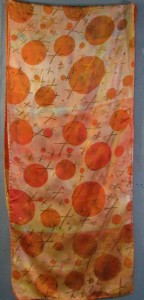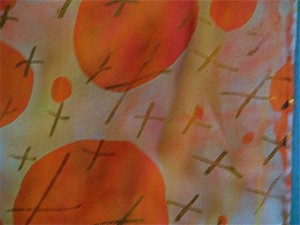 Would you bid on this?
Here is a sneak peek at my next project, which is a wall of Palestinian graffiti and art from photos taken in the West Bank.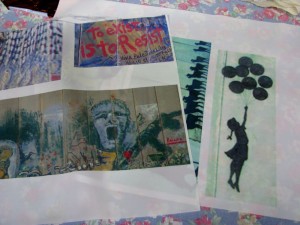 Tonight, Mr C and I went to see a really good film — Doubt. It was perfectly cast. All of the actors were superb and gave this film validity. It is not a feel good film. It has some funny moments, mainly provided by the character played by the fabulous Amy Adams.