It feels so good to get rid of stuff that clutters your life or to use up food in the fridge. I did both of these things today. I have a pile of very nice things to take to the consignment shop. I was excited to hear that I do not need to make an appointment — just drop and run. I also have a big bag of things that I was going to take to the Goodwill, but I think I will give them to my cleaning lady, Maryama. She is in Cuba for a few weeks visiting her family and helping them clean up from the hurricanes. We miss her.
I also cooked up the remaining turkey carcass yesterday, and today I made a huge pot of turkey and brown and wild rice and veggie soup. It was so good. I have 3 containers to put in the freezer for future meals.
I have almost completed the quilting on the Jerusalem Cross quilt. I am using one of the programmed stitches on the Janome and doing very simple quilting after doing some stitch in the ditch to hold everything in place. I found this hand-dyed quilt backing fabric that I am using. Here you can see some of the quilting from the back.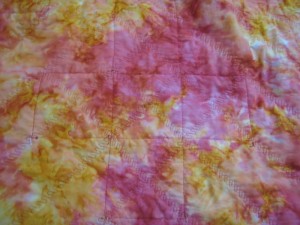 Our house guest has not arrived yet. His plane was due in at 9:30 tonight so he should be here soon. I am tired from all the closet cleaning, cooking and quilting so I hope he is not too late. I am ready for beddy bye!!