I am a little late catching up on Christmas Day around here. First the gratuitous Wilfredo photo. I think he is waiting for a text message to come in on his I-Phone. Or maybe he is just dressed and ready for the party.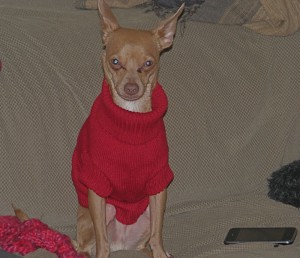 We had a delicious brunch at Steph's house and enjoyed seeing all the loot the grandkids received from Santa and other relatives.
Back at home, I prepared roasted Cornish game hens, Jacques Pepin braised potatoes, green beans, and a broccoli cheese dish. I love setting the table with the family china. I wanted to fold the napkins into elf shoes ala Brenda. But it was a bit complicated for me (I needed Miles!), so I opted for the elegant candle fold.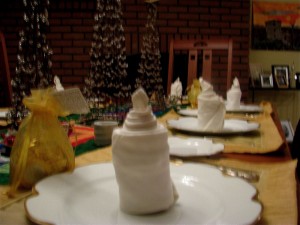 That is where the photos of the Christmas dinner ended. I was too busy to pick up my camera. Oh, I did get this photo proving that the party is over, especially for these two.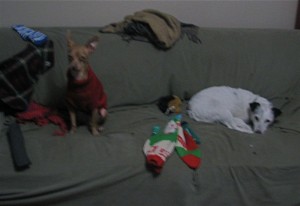 Today, Lisa and I designed a postcard for my show. I am very late getting this done and she saved my rear. It has been sent off to Overnight Prints and should arrive early next week. At least it won't go out in the Christmas Rush.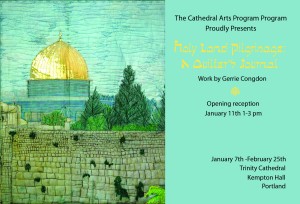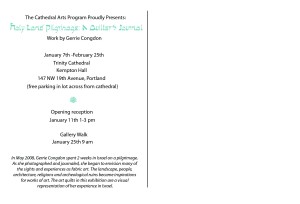 Tonight, Lisa is staying with Amy Ruppel and catching up on artsy things. Tomorrow, we are taking the patient Miss Mia out for her birthday shopping trip — only a week and a half late. I am sure it will be more fun with Aunt Lisa joining us.