This was one of those Mondays when nothing was going right. I know you want to hear all my woes, right?
Number one. My laptop died on Saturday. I thought it was caused be a dead battery and a power cord with a short. Turns out, there was a problem worse than that. Anyway, I got a pretty good deal on a trade-in and a new open box Mac I-book. Open box means that it was purchased and returned and I got it for a discount. I get the new Mac warranty. I also get a new carrying bag and a Lacie external back-up drive. I was hoping to pick it up this morning, after they had copied all my files to the new computer. But they called and said that it kept freezing up and so they had to try another method. Tonight, they called and I can pick it up tomorrow. Woohoo! Can't wait.
Number two. This morning I packed up my nice clothes that are too big and took them to the nearest consignment shop. They only took about 1/4 of the things I took in. They said they were not "their" style. I said, Oh, that is why I can never find anything here. You don't carry "my" style!! So tomorrow, I am going to call the Savvy Plus consignment store to see if they are interested. I find it amusing that they want items purchased in the past year to year and a half. And yet, when you look around the store, she see all this stuff that you know is older than that. Sigh. It is so much easier to go to the Good Will and forget about cash!!
Number three. Two weeks ago, I ordered 3 rolls of fabric prepared for printing on a large format computer. the company is ColorPlus, in Las Vegas. Last Tuesday, I called to find out where my stuff was. She said it had not been sent because the organza was not in. I said, just send the silk and the cotton – I needed it yesterday. She said she would send it priority mail. You guessed it. No fabric has arrived. I called again. I was told that they would call back in half an hour to let me know if it had been shipped. No phone call. I will try again and tell them I have 500 fiber artists reading my blog, and they will hear about my problem!! (Sometimes a little exaggeration works!)
Otherwise, it has been very pleasant around here. Olivier left at 4:30 this morning. I never got to take a photo of him in his cool coat, but I found one on the Internet. He is on the right. He found some wonderful vintage German-made opera glasses at an antique store on Saturday. We had a great lunch at Papa Haydn's. The Bach Christmas Oratorio was absolutely divine. It includes 6 cantatas and is 3 hours long, but very worth it. It was followed by Wassail and cookies.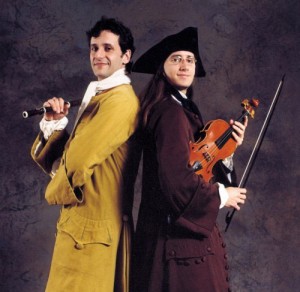 My latest project, while I wait for my fabric, is a collage titled "Pilgrimage". I have printed a photo of our group on organza and also have a photo of footprints on silk. I have made thermofax screens of the religious symbols in the background. The orange linen will be the base for this. I am going to try writing on it with a syringe or tjanting tool.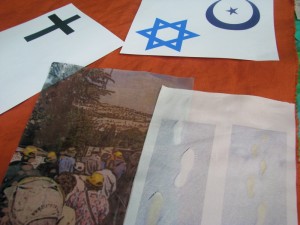 Lastly, I was talking to Mr C in his office and looked out and saw this wonderful sight of water droplets on the strange flowers that bloom in the fall on the plant outside his window. I tried to get a clear photo of it using the close-up button. If you click on the photo, you can see the droplets a little better.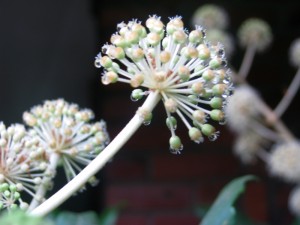 Here is another shot of the flowers.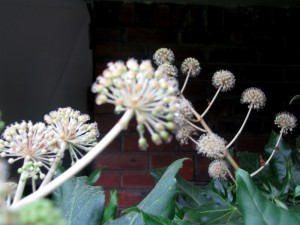 My friend, Diane, takes incredibly beautiful macro shots of flowers. My camera cannot compete with hers, but I love trying!!