Today, Mr C and I ventured out in the Jeep with 4 wheel drive to get lots of errands done before the next storm arrives. I had a coupon for 40% off at Paper Zone and they had 30% off all holiday stuff. We got Christmas cards, mailing envelopes for Christmas presents (everyone is getting a copy of Stephanie's Book!!), ledger size card stock for journal pages for my show and wrapping paper and ribbon. Mr C needed something from the hardware store, and I needed to pick up some more food to get us through the next few days. We had yummy roasted salmon and potatoes with broccoli for dinner – mmmm good. We are ready for the next storm due to arrive in the morning. It is still in the 20s so it will mean more ice and slip sliding. The main roads are pretty clear, but the side streets and neighborhood streets are sheets of ice.
I have finished What If? I also thought I could call it No Road to the Inn.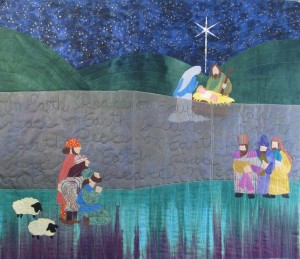 I decided it needed some sheep!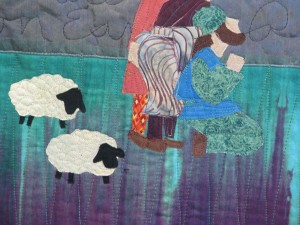 I made a stencil for the star and stenciled some foiling glue. Then I ironed on silver foil.
I have enjoyed working on this piece probably because it fits the season so nicely.
Today was a day for out with the old and in with the new. Last night the UPS guys delivered several large packages. I had ordered a new Cuisinart with my Amex points. They were on special. So out with the really old and in with the streamlined new. Ha, the new one has a funny face – see it?
We have had these lights on the front porch: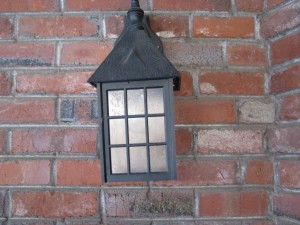 Mr C found these lights on line. Four of these arrived – 2 for the porch and 2 for the garage. Aren't they much more fitting for our 50s house?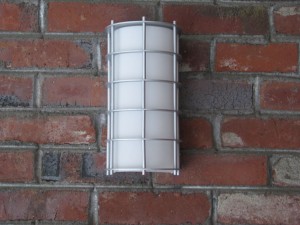 Mr C is getting cabin fever so he installed the lights even though it was freezing. He kept running back into the house to warm his hands! I am going to get him busy making hanging rods for my quilts, very soon.
I have noticed that a lot of the blogs I read have received a "Kreativ Blogger award". (I guess the spelling is creative!) What do you think makes a blog creative — the writing, the photos, the work done by the blogger or a combination. I love some blogs for their photography – ie: 3191 and Jane Dunnewald. I love some for their thoughtful writing about art— ie:  Elizabeth Barton and Jeanne Williamson. I love some for their ability to communicate with me about  their lives, from the mundane to the special — ie: my good friends Terry and Kristin. I love some for their humor — my friend Dee and From Down the Well. And some for their gorgeous work— ie: Constance Rose and Joanie San Chirico. Those are my creative blog awards for tonight.